Adult Sports Ministry
We offer several sports related opportunities throughout the year. Our new building will include a fitness facility. More information on that soon!

ladies self defense class: thursday, Feb. 21
This ladies self defense class is designed to increase awareness to avoid a situation before it occurs as well as increase physical skills to escape a situation. Students learn awareness skills, verbal commands, distancing, basic strikes and simple escaping tools in this 2 hour program.
Led by Yvonne Falgout, Chief Instructor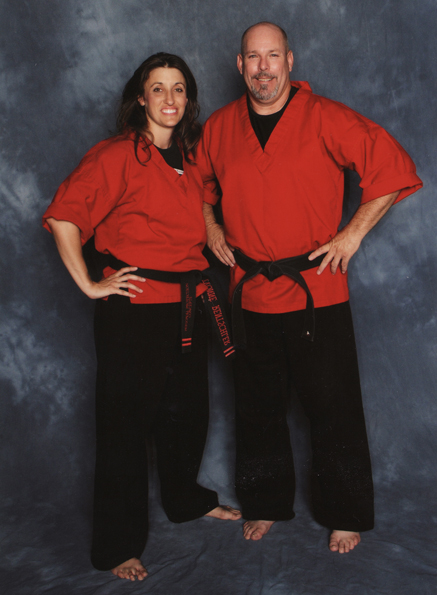 Yvonne has trained in martial arts for over 34 years. Her training includes Shito-Ryu Karate, RBWI, American Ninjutsu and submission fighting. Yvonne trained directly under Michael Bussey and with Robert Bussey. She holds a 5th degree black belt in American Ninjutsu/RBWI. Yvonne seeks outside training frequently to continue her growth as a martial artist and instructor.
Registration
Registration limited to 30 people.
Ages 11 and Up (Ages 11-12 must attend with a parent.)
February 21 from 6:30 – 8:30 pm
Cost: $10 (100% goes back to the church)
Adult CoEd Volleyball League 2019
New League starts in late JUNE for a 6 game season. All games played at First Baptist Terrell. Specific dates TBA.
Rules
Members of First Baptist Church Forney or First Baptist Terrell or First Baptist Forney or Terrell Sunday Bible School are eligible or prospective members who have attended at least twice in July.
Must be 16 or older to play.
Max of 10 on a roster and must have at least 3 females on the court at all times if you have 6 players; 2 females if you have 5 players.
Location: First Baptist Terrell
Registration
Cost is $90 per team or $10 if you are signing up as an individual to be placed on a team. While the majority of the players in the league are invited by a team captain, we are committed to helping unconnected people get on a team.
Registration is closed.
Men's Basketball League
New league will begin April -May of 2019.
Rules
Must sign up as an individual and be placed on a team.
Must be 16 years old or older by April 12.
Must attend First Baptist Forney or FBC Terrell at least twice a month to be eligible.
You may invite someone to play that does not regularly attend as an outreach to this person, but they must attend church twice in April and twice in May to be eligible. One person may be linked with you on a team if you are outreaching to them.
Cost is $45 per player and must be paid when registration form is turned in by March 25.
Weekly league games and then a double elimination tournament.
All Games will be played at First Baptist Church in Terrell.
REGISTRATION
Registration is now closed.
Email to Greg Childress at with any questions.
Walking For Fitness
More fitness programs and leagues especially for adults are in the works as we build out our new space. Look here for more information in the coming months.
In the meantime, the church is open for walkers during the day. Walking distance maps are available. For more information on the Sports Ministry, contact Greg Childress at or in the Church Office.