College and Career Ministry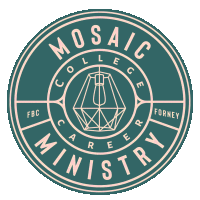 At First Baptist Forney, we believe the 18-24 year old age group is prime to make a difference in our community. We invite and welcome young adults to engage in leadership roles in all aspects of our ministry.
Weekly Worship and Bible Study
SUNDAYS
Bible Study at 9:30 a.m. in room A112.
Encounter Worship at 11:00 a.m.
Mosaic: C&C Fellowship & Discipleship at 5:30 p.m. in the Coffee Shop.
WEDNESDAYS at 6:30 p.m.
C&C is encouraged to serve in our Children's or Students Ministries or attend an Adult Discipleship class during the school year.
Summers until Aug. 17: Small group Bible Study will meet at 6:30 p.m. in rooms D068 & D072.
Whether you are here full time or just on holidays and summers, we invite you to come be a part of what's going on in the C&C Ministry.
Social Media
Come join us! Activities are announced on our Instagram page.