College and Career Ministry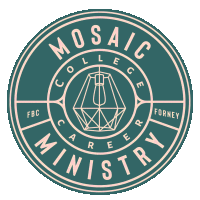 At First Baptist Forney, we believe the 18-24 year old age group is prime to make a difference in our community. We invite and welcome young adults to engage in leadership roles in all aspects of our ministry.
Weekly Worship and Bible Study
SUNDAYS
Bible Study at 9:30 a.m. in room A112.
Encounter Worship at 11:00 a.m.
Mosaic: C&C Fellowship & Discipleship at 5:30 p.m. in the Coffee Shop.
WEDNESDAYS at 6:30 p.m.
C&C is encouraged to serve in our Children's or Students Ministries or attend an Adult Discipleship class.
Whether you are here full time or just on holidays and summers, we invite you to come be a part of what's going on in the C&C Ministry.
See Upcoming Events to the right and follow up on Social Media!
Social Media
Come join us! Activities are announced on our Instagram page.
Summer activities 2022
Galveston | Mosaic Beach
May 23 - 26 | $175 TOTAL
SPACE IS LIMITED. Your $50 Non-Refundable Deposit is due ASAP to reserve your spot. House currently has 20 spots available.
Registration is now closed. Please continue to make payments.
SAVE THE DATES:

June 20: Dinner and outdoor games at Standard Service in Heath. Meet there at 6:00 p.m.
July 25: Skate night at Texas Skatium in Garland. $12.99 pp plus food costs. Meet there at 6:00 p.m.
Aug. 1-3: Float San Marcos River
Details in your Bible Study class and on our Instagram page.