First Baptist Academy
Now Hiring
The First Baptist Academy is hiring teachers for infants, 2's and pre-K to work 8:00 a.m. until 5:00 p.m. daily and Mother's Day Out (MDO) on MWF from 8:30 a.m. – 2:00 p.m. Contact the Academy at 972-564-1836 to apply.
---
The First Baptist Academy Child Development Center is a ministry of First Baptist Church Forney with quality education based on the Word of God. FBA/CDC is state licensed and meets the standards of the TDFPS.

Purpose is to provide a safe learning environment for all children with trained teachers and loving parents working together to enrich the lives of our children through:
God's Word
Activities (promoting physical, social,emotional, cognitive and spiritual development)
Age appropriate curriculum
Learning centers
FBA Programs
Daycare
Daycare hours are from 6:30 a.m - 6:00 p.m. M-F.
Bus to Johnson, Rhea and Claybon leaves FBA at 7:00 a.m. After school pick up provided from same locations.
Questions? Contact the FBA at 972.564.1836.
Mother's Day Out
Monday/Wednesday/Friday from 9:00 a.m. - 2:00 p.m.
Tuesday/Thursday from 9:00 a.m. - 2:00 p.m.
Curriculum
Wee Learn

2 years and younger
Bible based with Bible stories
Scripture enhanced
Theme topics to learn about: God, Jesus, the Bible, church, family, self and others
A Beka: (preparation for Kindergarten)
3 years old and older
Bible based/Bible stories
Learning games
Phonics
Numbers
Language development
Skills Development
Puppets
School age Fun: (Summer)
Kindergarten-4th grade
Bible Based/Stories,Scripture
Indoor/Outdoor activities
Learning centers
Large and Small groups
Share time
Hours of Operation
Full Time:
Monday-Friday from 6:30am-6:00pm. Year round.
Part Time:
Monday/ Wednesday/Friday from 9:00am-2:00pm

Tuesday/Thursday from 9:00am -2:00pm
Follows FISD calendar. Ends mid-May resumes Fall
---
STAFF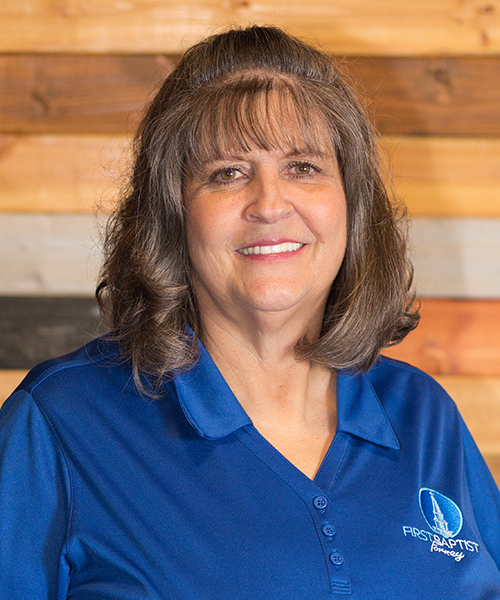 Tanya Nelson is the First Baptist Academy Director. Contact her at 972.564.1836 or email .
Heather Girdley is the First Baptist Academy Assistant Director. Contact her at 972.564.1836 or email .
Jesus said, "Let the little Children come to me, and do not hinder them, for the kingdom of heaven belongs to such as these." Matthew 19:14