K-6 Children's Ministry
At First Baptist Forney, we want your children to learn about Jesus Christ in a fun, safe, and interactive environment.
Sunday Schedule
9:30 a.m
Encounter Worship Service & Bible Study* for all ages

11:00 a.m.
Blended Worship Service
Extended Care - Preschool 5 and under
Children's Church - Kindergarten - 3rd Grade
Bible Study for grades 4-6*

5:00 p.m.
GAs (Girls in Action) - Grades 1-6 (during school year only)
Bible Drill - Grades 4-12 (during school year only)

6:00 p.m.
Kids Worship
* To register your child for Sunday Bible Study, please visit the Children's Information Desk on Sunday mornings. it is located upstairs on the 2nd floor of the Education Building.
Wednesday Schedule (SCHOOL YEAR)
6:15 p.m.-7:45 p.m.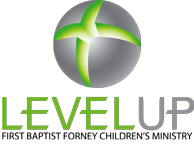 Level UP: Grades K-6 participate in Level Up! This Bible verse focused program includes games, worship, and study structured so that participants (at varying levels based on age/grade) will advance together as a class. Join anytime during the school year.
Children's Registration Night is Wednesday, Aug. 22 from 6:30-7:30 p.m. Come and go to register for Cubbies, Level Up, Kids Worship, GAs or Bible Drill.
Level Up Classes begin Wednesday, August 29 from 6:15-7:45 p.m.
Level Up Registration Links:
Click here to register for Preschool Cubbies.
DON'T Miss!
Community Wide Easter Egg Hunt
Saturday, April 20 at 10:00 a.m. Children ages birth - grade 6 are invited for this ginormous Egg Hunt & story of Easter!
Camp GAP (Grades 3-6)
June 17-21 at Mt. Lebanon Encampment. Summer camp for grades 3-6!
See more on our Calendar of Events!
---
Opportunity to Serve
If you are interested in serving with our Children's Ministry, please complete the form below. You will be contacted soon. To ensure the safety of all children and visitors, First Baptist requires a completed background check on all volunteers. Thank you!
---
Staff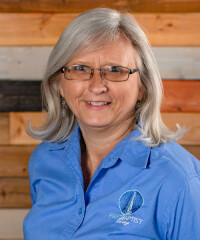 Charmey Buie is our Associate Minister to Children. You can email Charmey .