Men's Ministry
Sharpening Men to Spiritual Maturity
An Iron Man is progressing toward Christlikeness exhibiting the Fruits of the Spirit by being:
• Intimate with Christ
• Reliant on Prayer
• Obedient to the Bible
• Nurturing to his Family
• Ministry-minded to Others
• Engaged in Church
• Natural in Witness
As iron sharpens iron, so one man sharpens another. Proverbs 27:17
---
Iron Men's Fall Kick Off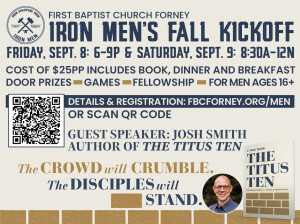 Our Fall Kick Off is Friday and Saturday, September 8-9, 2023.
This event is for all men ages 16 and up! Cost of $25pp includes The Titus Ten book, dinner, breakfast and snacks. Attendees will have a chance to win door prizes, play games, enjoy fellowship and hear author, Josh Smith lead you through three sessions on building foundations for godly men!
Friday, Sept. 8
6:00 pm Start includes dinner, Session 1, dessert break and more
9:00 pm End of Night 1
Saturday, Sept. 9
8:30 am Breakfast
9:00 am Day 2 Begins. Includes Sessions 2 & 3, breaks and launch of 23-24 Men's Calendar
12:00 pm Kick Off Ends
Guest speaker is Josh Smith, author of the The Titus Ten: Foundations for Godly Manhood.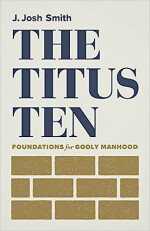 This book is a manual for becoming the kind of man God intends for you to be, and leading other men to do the same. Taking ten qualities from the Apostle Paul's short letter to his mentee Titus, The Titus Ten will help you grow in your understanding of the gospel, your identity, your character, your doctrine, and more. Each chapter includes questions for reflection and discussion, to both process the way the Lord is growing you, and read in a group with other men. As you grow in these areas of your life, you'll become the kind of man God desires to use in your family, your church, and the world.
---
2023 Men's Ministry Breakfasts
All men in the community are invited to join us for breakfast at 8:00 a.m. in the Great Hall here at FBCF. We will have a time for fellowship and prayer as well as enjoy free pancakes! No need to RSVP, simply come and bring a friend. Upcoming dates:
Saturday, Aug. 26
Saturday, Dec. 2
---
Men's Bible Study
Iron Men's Fellowship
We gather in the Mall every Monday morning at 8:30 a.m. for fellowship and Bible study. All are welcome.
Wednesdays
Men's Bible Study Wednesdays at 6:30. p.m. Led by Caleb Hanie in room A102. Men of all ages are invited to attend. No need to register.
---
Faith Riders
A motorcycle ministry for riders of all ages.
Monthly rides
Contact Bill Jones at (972)998-7329 or for details.
---
Iron Men Service Opportunities
Texas Baptist Men Disaster Relief
TBM goes anywhere to help people recover from natural disasters. For more information on how you can serve, contact Jim Andrews at
---