Men's Ministry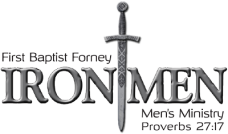 Sharpening Men to become Christ following leaders.
As iron sharpens iron, so one man sharpens another. Proverbs 27:17
Man GROUP Bible Study—Wednesdays
Join us on Wednesdays for Man Group study. Join Dr. James Pritchard for The Life of David. No registration required.
6:30 - 7:30 p.m. in Room D072
For men of all ages.
Man Night—Fellowship Event
Monthly time of fellowship and games. Occurs the 3rd Thursday of the month.
7:00-9:00 pm in the "Garage" or other designated location.
For men of all ages.
Man CHURCH -
Resumes Fall 2019
Weekly time of Bible Study—usually large group lesson with small group discussion.
Sundays, resuming Fall 2019
6:00-7:00p in Rooms A101-104
Led by Senior Pastor, Jim Pritchard and Teaching Pastor, James Pritchard
Upcoming Events
Man Camp—March 22-24, 2019
Weekend Retreat for men of all ages! Enjoy this time to 'Unplug' from everyday responsibilities and connect with God and others!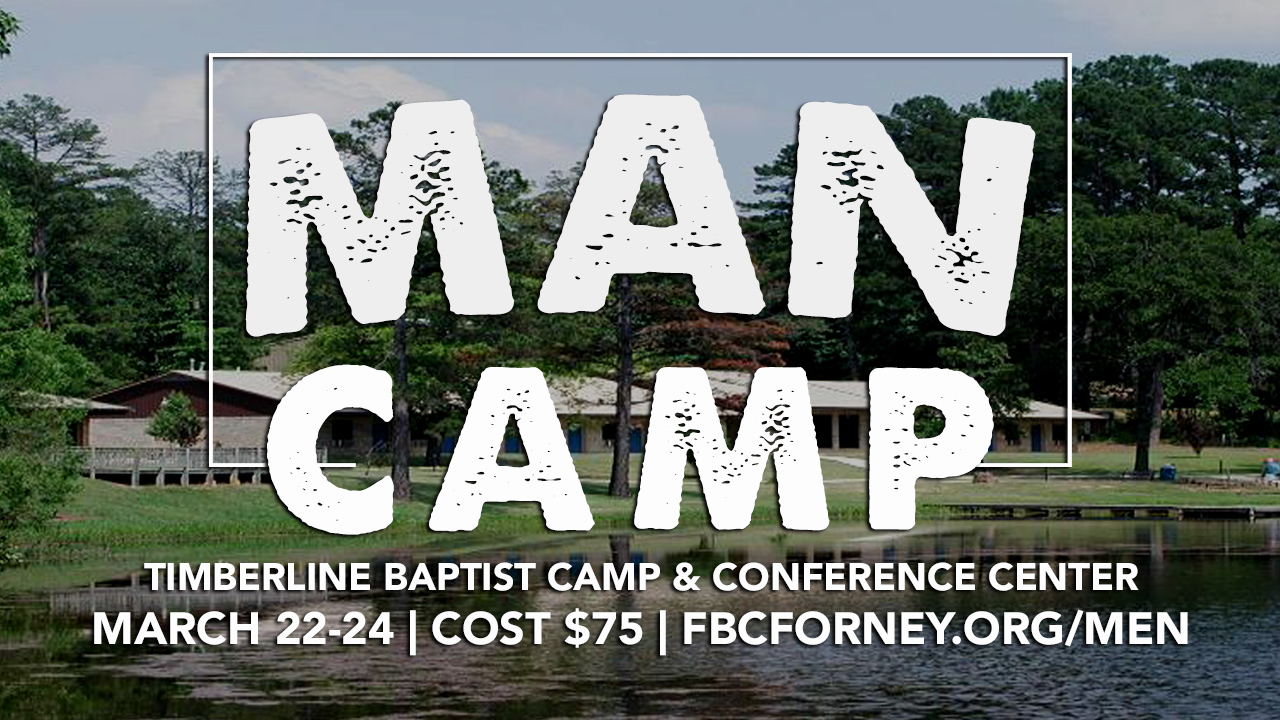 Theme: Unplug
Speaker: James Pritchard
Worship: Mark Warren
Cost: $75 covers everything except Golf
Activities: Fishing, canoe, zip-line, archery tag, pickleball, basketball, disc golf, outdoor activities, indoor table games, napping
Golf Options:
Friday—12:15—Garden Valley Golf Club, 22049 FM1995, Lindale, TX 75771--$59 plus tax/$39 plus tax for seniors (55+)—pay individually at course
Saturday—12:30—Hide-A-Way Lake Golf Club, 101 Hide-A-Way Lane Central, Hideaway, TX 75771--$56 plus tax—pay individually at course
Both golf options have limited availability. The first 16 signed up are in; after that, those who sign up will be on a waiting list.
Schedule:

Friday, March 22

12:15 Pre-Retreat Golf Outing
6:00 Pizza Dinner at FBC
6:30 Bus Leaves for Timberline
7:30 Unload
8:00 Worship/Session #1
9:30 Campfire

Saturday, March 23

8:00 Breakfast/Quiet Time
9:30 Session #2
10:30 Break
11:00 Session #3
12:00 Lunch
12:30 Recreation (Golf, Arrow Tag, ZipLine, Free Time)
6:00 Supper
7:30 Session #4
9:00 Free Time

Sunday, March 24
8:00 Bus Depart for FB Forney
9:00 Breakfast at FB Forney
9:30 Worship/Bible Study

Pastor's Masters Golf Tournament—April 2019
Senior Division (60+)--$50 per player
April 5 at Cedar Creek Country Club
8:00 Shotgun Start, 4-man scramble, lunch provided after round
Open Division (All ages)--$70 per player
April 6 at Firewheel Golf Park—The Lakes Course
8:00 Shotgun Start, 4-man scramble, lunch provided after round
Faith Riders
A motorcycle ministry for riders of all ages.
Typically host monthly rides.
Contact Bill Jones at (972)998-7329 or for details.
MEN'S COUNSELING
Are you a man who struggles with sexual sin? Dr. McDermott, a member of FBC Forney, is a licensed psychologist who specializes in helping men to overcome sexual sin and to live more Godly lifestyles. He is offering free and confidential counseling on a first-come, first-serve basis. Call or text him at 610-883-0237 to schedule an appointment.
Iron Men Service Opportunities
Minute Men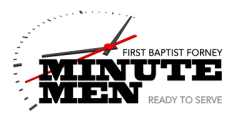 Working to meet needs in our community. If you are a senior adult, widow or just a family in need please contact Richard Mason at or call 972.564.3207 or you can also call Cynthia in the Church Office at 972.564.3357 for more information. Men of our church family are ready to serve you in areas such as light construction, yard work or minor repairs.
Texas Baptist Men Disaster Relief
TBM goes anywhere to help people recover from natural disasters. For more information on how you can serve, contact Jim Andrews at
---
Staff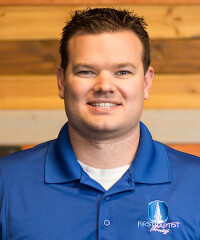 The Men's Ministry is under the direction of James Pritchard, Teaching Pastor. Click here to email James or call the Church Office at 972.564.3357