Men's Ministry
Sharpening Men to Spiritual Maturity
An Iron Man is progressing toward Christlikeness exhibiting the Fruits of the Spirit by being:
• Intimate with Christ
• Reliant on Prayer
• Obedient to the Bible
• Nurturing to his Family
• Ministry-minded to Others
• Engaged in Church
• Natural in Witness
As iron sharpens iron, so one man sharpens another. Proverbs 27:17
2022 Men's Ministry Breakfasts
All men in the community are invited to join us for breakfast at Alfredo's Steakhouse at 111 E. US Hwy 80 in Forney. Purchase breakfast on your own. Enjoy fellowship and a time of prayer.
June 25 at 8:00 a.m.
August 27 at 8:00 a.m.
October 22 at 8:00 a.m.
Men's Bible Study
Wednesday night class led by Kirk Luecke begins Aug. 25 - May 18 at 6:30 p.m. in rooms A103-104. Class will be a study on "Love Does" by Bob Goff. All men are welcome to attend.
BIG EVENTS
See our side calendar for all events.
Tailgate & KickOff: Saturday, Aug. 13
Join us for gourmet hotdogs, cornhole, pickleball, dominoes, cards and more as we kickoff our fall ministry events.
Fall Retreat: November 11-12
Here at FB Forney. More details soon!
---
Iron Men T-Shirt Orders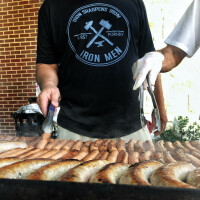 Iron Men T-Shirts are now available to order online!
Click the link below.
Cost is $10 each.
---
Faith Riders
A motorcycle ministry for riders of all ages.
Monthly rides
Contact Bill Jones at (972)998-7329 or for details.
---
Iron Men Service Opportunities
Minute Men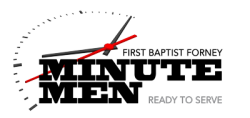 Working to meet needs in our community. If you are a senior adult, widow or just a family in need please contact Richard Mason at or call 972.564.3207 or you can also call Cynthia in the Church Office at 972.564.3357 for more information. Men of our church family are ready to serve you in areas such as light construction, yard work or minor repairs.
Texas Baptist Men Disaster Relief
TBM goes anywhere to help people recover from natural disasters. For more information on how you can serve, contact Jim Andrews at
---