Special Needs Ministry
Birth - Age 17
Here at First Baptist Forney we offer a Christ-centered environment with a person-centered emphasis that enables us to focus on the entire family's spiritual growth. We view special needs as a different ability rather than a disability. We believe it is all part of God's plan to care, love and welcome children with special needs into our church fellowship and community.
Therefore, we consider it a privilege to offer this ministry led by Kristen Morgan. Well trained, certified, and caring, Kristen would love to speak with you regarding the needs of your child.
At FB Forney we currently offer an inclusion-buddy system and self-contained learning environment.
Sunday Bible Study
Special Needs Children's Bible Study Class, Jesus and Me (JAM) is held on Sunday's at 9:30a & 11:00a in Room D024.
Adult Bible Study Class for Family and Friends of Special Needs is held at 9:30a in Room D214.
Special Needs Parents Day/Night Out
Our Special Needs Ministry is dedicated to meeting the spiritual, physical and emotional needs of special needs children / teens and their families. We offer several Parent Night Out (PNO) dates throughout the year where your children are cared for in a loving and fun environment while parents enjoy a night out! This is for ages birth to 17.
See the calendar to the side for dates.

Adult Special Needs Ministry
A ministry for ages 18 years and older.
Connect Event…for Special Needs adults ages 18+ on Saturday, Sept. 28 from 7-9:00 p.m. Enjoy board games, cards, chips and cookies in the mall near the coffee shop.
Authorization Forms
To enroll your child in our Special Needs Program, you will need to print and sign the forms below. Return them to the Church or email to .
Opportunities to Serve
If you would like to apply to be a Special Needs Buddy or work in this ministry, please click below to complete the serve application or contact Kristen below.
---
To learn more about our ministry for special needs children, watch the video below.
Special Needs Task Force from SBTC Videos on Vimeo.
---
Staff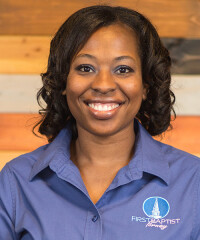 Kristen Morgan is our Minister to Special Needs. Click here to email Kristen.
Kristen has a Masters of Education from Widener university in Chester, PA and an Administration Certification from Texas A&M Commerce.
Her background includes work as a Special Education Teacher for schools in Pennsylvania, as well as Forney.
Most recently she has served as an Educational Diagnostician for both Forney ISD, then Duncanville ISD.
Kristen is a skilled and dedicated educational professional with administrative training, teaching experience, special education background, co-teach and inclusion experience, and diagnostician experience.
Certifications
Principal EC-12
Educational Diagnostician Certification EC-12
Special Education EC-12
MTA Certification (Multi-Sensory Teaching Approach)