Special Needs Ministry
Ages Birth - 17 and Adults ages 18+
Here at First Baptist Forney we offer a Christ-centered environment with a person-centered emphasis that enables us to focus on the entire family's spiritual growth. We view special needs as a different ability rather than a disability. We believe it is all part of God's plan to care, love and welcome children with special needs into our church fellowship and community.
Therefore, we consider it a privilege to offer this ministry and would love to speak with you regarding the needs of your child.
At FB Forney we currently offer an inclusion-buddy system and self-contained learning environment.
Sunday Bible Study
Special Needs Children's Bible Study Class, First Friends, is held on Sunday's at 9:30a & 11:00a in Room D024.
Adult Bible Study Class for Family and Friends of Special Needs is held at 9:30a in Room D214.
---
night to shine
We are so excited to host Night to Shine, sponsored by the Tim Tebow Foundation on Friday, February 10, 2023 from 6-9:00 pm!
Night to Shine is an unforgettable prom night experience, centered on God's love, for people with special needs, ages 14 and older. We are blessed to be a part of this growing worldwide movement through the local church where thousands of people with special needs will be celebrated, given the royal treatment and reminded of God's love for them!
Watch this promo video from the Tim Tebow Foundation:
Under 18 - click to serve Link
AMAZON WISH LIST
If you would like to help by purchasing items from our Night To Shine Wish List on Amazon, please click the link below.
Night to Shine Prayer Guide
To help give you some ideas and suggestions of ways to be praying over NTS, the Tim Tebow Foundation has created a PDF Night to Shine Prayer Guide.
If you would like to view the Prayer Guide as a digital "flip book", please use this link: 2023 Night to Shine Prayer Guide
The Prayer Guide begins Sunday, January 15th and has two prayer focuses each week with daily topics to pray over. We would love for you to share it with your team, church leadership, congregation, etc. so that they can join in lifting up NTS in prayer!
---
Special Needs Parents Day/Night Out
Our Special Needs Ministry is dedicated to meeting the spiritual, physical and emotional needs of special needs children / teens and their families. We offer several community-wide, free Parents Night Out (PNO) dates throughout the year where your children are cared for in a loving and fun environment while parents enjoy a night out! This is for ages 1 to 17. Child care and food will also be provided for siblings who are 12 years old and younger.
2023 Events coming soon.
Service Opportunity Link

We need multiple service providers during our Parents Night Out events. This is a great opportunity to give and receive. If you can serve, please email your contact information to Kacey Jackson.
Adult Special Needs Ministry
A ministry for ages 18 years and older. We host fun nights throughout the year!
2023 Events coming soon.
Authorization Forms
To enroll your child in our Special Needs Program, you will need to print and sign the forms below. Return them to the Church or email to .
Opportunities to Serve
If you would like to apply to be a Special Needs Buddy or work in this ministry, please click below to complete the serve application or contact Kacey.
---
To learn more about our ministry for special needs children, watch the video below.
---
Staff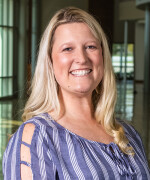 KaceyJackson is our Special Needs Ministry Director.
Click here to email Kacey.