Wednesday Nights
Wednesday night activities are August 24, 2022- May 17, 2023 unless noted
Wednesday Night Supper
Wednesdays from 5:00 - 6:00 p.m. in the Forum
On-line registration opens each Thursday for the next Wednesday Night Supper and closes by noon on Tuesdays.
Resumes Aug. 24, 2022
---
Adult Wednesday Activities
Note: Childcare for birth to age 2 is available from 6:15-7:45 p.m. in nursery area on the 1st floor of Building D.
Mustang Creek Fellowship, a traditional worship service led by Rev. Jerry Griffin is held on Wednesdays at 6:30 p.m. in the Chapel. All are welcome. No registration required.
Adult Choir Rehearsal for men and women resumes on Wednesday, Sept. 7 is at 6:30 p.m. Meet in the choir loft behind the Forum.
Wednesdays at 6:30 p.m. from Aug. 24 - May 17.
MEN'S BIBLE STUDY
Men of all ages are invited to attend. No need to register. Choose from the following:
"Roles of Men" Rod Cushing will lead this class to discuss the roles of man that God had assigned him. If we as men will do the basic roles of man, our homes, employments, societies, and churches would be a better place fostering love, faith, and hope. Located in room A113.
"Stepping Up: A Call to Courageous Manhood" In this book by Dennis Rainey, he identifies five stages of a man's journey through life boyhood, adolescence, manhood, mentor, and patriarch and examines a man's responsibilities at each step. Led by Rick Benjamin in rooms A103-104.
WOMEN'S BIBLE STUDY
More details and registration is available at fbcforney.org/women. Choose from the following:

A Study of Proverbs 31: A Woman of Valor by Laurie Barnett
Today, many "cultural" voices seek to tell us how to live as women. In this study, we will examine femininity as revealed by God in His Word. Empowered by the Holy Spirit, the Proverbs 31 woman is courageous and honorable, blessing all who touch her life. Join us on this exciting and challenging journey as we seek to become the women God has called us to be…women living abundantly, purposefully, and fully devoted to Him. Located in room D068.
From Providence to Purpose – A six week study of Esther by Tony Evans
Study Guide/Workbook cost: $14
God has a purpose for your life, and He uses every action and event that occurs in it to make that purpose a reality. The biblical account of Esther appears to be a series of coincidences strung together that deliver the Jews from certain death. However, God selected Esther for a particular purpose at a particular time in the history of His chosen people. Located in room D070.
Click here to register for Women's Classes
CO-ED BIBLE STUDY
Parables of Jesus
This class is led by Richard Mason on Wednesdays at 6:30 p.m. starting Aug. 24 in room A114. Parables are stories that Jesus told. Scholars have commented that although these parables seem simple, the messages they convey are deep, and central to the teachings of Jesus. Bring your Bible and let's study the Parables of Jesus.
Marriage: Love and Respect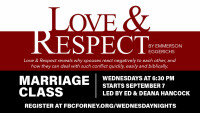 Starting Wednesday, Sept. 7 - Dec. 14, 2022, Ed & Deana Hancock will lead a new study on the Marriage: Love & Respect in rooms A101-102. This class is open to all adults - men and women. Written by Dr. Emmerson Eggerrichs, discover the single greatest secret to a successful marriage! Touted as a classic among marriage books, Love & Respect reveals why spouses react negatively to each other and how they can deal with conflict quickly, easily and biblically. A New York Times best-seller with over 2.1 million copies sold.
re|ENGAGE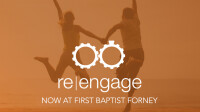 re|ENGAGE is a marriage enrichment program open to the community. Marriages in any condition can benefit, whether you are struggling to get along, your marriage is broken, or you simply want to grow closer together as a couple. re|ENGAGE examines God's design for marriage and applies principles from the Bible to guide couples towards growth in their relationship with each other. You can expect to receive encouragement by hearing stories from other couples that have experienced victory in the midst of hard times. Couples will be placed in a small group with a facilitator couple and other couples to work through a 16-lesson curriculum. Meets Wednesdays from 6:30p - 8:00 p.m. Sept. 7 - Dec. 14 in rooms A106-107. Space is limited to only 16 couples.
Class is Full
---
First Kids MidWeek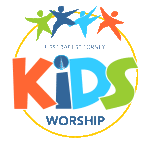 FIRST KIDS WORSHIP
Kids Worship is on Wednesdays, from 5:30 - 6:30 p.m. during the school year only (Aug. 24 - May 7) for grades K-6. Kids Worship ministry opportunities for kids to glorify the name of Jesus through singing, motions, drama, games and more. Meet in rooms D236-237.
PRESCHOOL AWANA CUBBIES

AWANA Cubbies (3's-4's) Clubs meet during the school year (Aug. 24 - May 17) on Wednesdays from 6:30-7:45 p.m. in the older Preschool Area of Building D. Meet at the CEC desk by the Children's drive-thru entrance.
Click here for more information on Cubbies.
FIRST KIDS RAs, GAs, BIBLE DRILL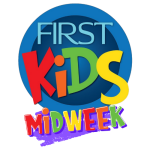 RAs and GAs are mission based organizations where boys and girls can come and learn about missions around the world. They hear about missionaries and the work that they do, as well as pray for them and learn to tell other people about Jesus.
Both of these ministries are on Wednesdays at 6:30p during the school year (Aug. 24 - May 17). RAs & GAs are for kids in grades K-6th grade.
Bible Drill is a fun, fast-paced way for your child to learn and memorize God's Word. Bible Drill is for grades 4-6 and meets in the Forum at 6:30p on Wednesdays during the school year. For more information email Jerad White at .
Student Worship
The House (grades 7-12) meets in the Garage at 6:30 p.m. starting on Wednesday, Aug. 17. Student Fall Kick-Off will by on Aug. 24.