Leagues & Camps
We offer several sports related opportunities throughout the year for children and adults.
We also off a full service Sports and Fitness Center for the community. Visit the Sports & Fitness Center page for more information.
---
Co-Ed Indoor Pickleball Open Play
May 31 - Sept. 27, 2022
Tuesday nights from 6:30-8:30 p.m. If you are a member of the fitness center, there is no cost to play. If you are not a member, a $5 court fee will apply. Everyone is welcome to play regardless of skill level.
---
Praise 'N Motion Dance
A Christian Dance Experience for girls ages 3 - 2nd grade.
Classes are located in the gyms at First Baptist Church Forney.
Offering Tap, Jazz and Ballet
Mondays from mid August 2022 to May 2023
REGISTRATION
Classes are led by Melanie Rodgers, Director. Email for registration details.
Click to email for registration
---
2022 Adult CoEd Volleyball League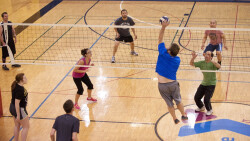 REGISTRATION IS NOW CLOSED.

Sign up as part of a team or as an individual to be placed on a team. We are committed to helping unconnected people get on a team.
Must be 16 years old to play.
The First Baptist Forney Sports Ministry would like this league to be a useful outreach tool for our church members. We encourage FBC members on each team to work toward inviting one or two prospects who do not have a church home to be part of their team. The captain and at least 3 members of each team must be members of First Baptist Forney.
Maximum of 12 on a roster.
Format is 6 ON 6 CO-ED. Must have at least 3 females on the court at all times if you have 6 players; at least 2 females if you have 5 players.
GAME DATES (Subject to Change):
6-10:00 p.m. nightly
June 20, 23, 27
July 3, 11, 14
Tournament:
Sunday and Monday, July 24 and 25.
Note: Game and Tournament Dates may change depending on the number of teams that register.
---
men's basketball league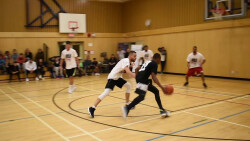 2023 League Dates TBA (April - May)
Where: First Baptist Forney Gym | Monday nights from 6:00 pm to 10:00 pm
Cost: $60 per person includes jerseys
The league is a combination of good competition and great fellowship. Players must be 16 by April 4. Each player must attend FBC Forney in person for worship or Sunday school at least twice in April and once in May to be eligible to play. [A player who fails to attend twice in April will be disqualified to play in May and will not receive a refund. A player who does not attend in May will be disqualified to play in the tournament.]
Players must be 16 by the date of the first game (April 4) to be eligible.
The season will consist of 5 regular season games and then a single elimination tournament on May 13-14.
Games will be officiated by certified high school referees.
You will register and pay individually and select whether you are a free agent or a member of a group (a maximum of 3 players may register in the same group). If you are part of a group, you will enter the other players' names below.
All members of a group must register individually and list the same players in their group. Only mutual requests will be granted. The league director will combine groups and add free agents to each team.
Must pay online on the church website. You are not guaranteed a spot unless you have paid. Deadline is March 24.
Registration is now closed.
---
2023 Pastors Masters
Date and Location TBA
This is a great opportunity for your Bible Study Class as well as to invite some non-members to play with you.
8:30 a.m. Shotgun Start
4 person scramble
Senior division (60+) and Open division
Price: $70pp - Includes breakfast, lunch and cart fees
Registration is now closed
---
2022 girls volleyball Summer Camps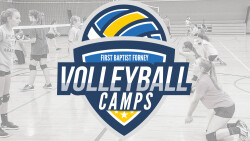 Camps have ended for the summer. Check back next summer.
Each camp is held 9:00 a.m. - 12 noon in the First Baptist Forney gyms.
Camps are led by Ray Kramer. Coach Kramer is the girl's volleyball coach at Dallas Christian; he formerly served at the North Forney girl's volleyball coach.
REGISTRATION:
Cost is $100 per player.