Senior Adult Ministry
"Gray hair is a crown of splendor; it is attained by a righteous life." Proverbs 16:31
Senior Adults at First Baptist Forney are some of the most active members of the church. Our 1st Tuesday Senior Adult Ministry Luncheons, Best Yet Nights, trips, and volunteer work are typical events on the monthly schedule of activities for this group. Come and get involved! The Senior Adult Ministry at FBC is a fellowship of friendly, caring and loving Seniors! We are anxious to meet and share with you all the many wonderful things God is doing in our midst!
Sunday Worship
8:00 a.m. Blended Worship with Praise Teams and First Praise Adult Choir
9:30 a.m. Encounter Band-Led Contemporary Worship
11:00 a.m. Encounter Band-Led Contemporary Worship
Sunday Bible Study
Classes meet at 9:30 a.m. and 11:00 a.m. Click below for a list of classes, locations, and teachers.
Wednesday Nights
Join us for Mustang Creek Traditional Worship Service held on Wednesdays at 6:30 p.m. in the Chapel. Led by Rev. Jerry Griffin. Resumes Sept. 5.
1st Tuesday Lunch
This is an opportunity for our Senior Adults to enjoy one-on-one time with a member of the church staff. 1st Tuesday Lunch is an every other month event.
October 2 : Rainforest Cafe in Grapevine. Sign up in your Bible Study class.
Best Yet Nights
Especially favored are the Best Yet Nights, typically the last Thursday of the month, where the attendees enjoy a potluck dinner and special entertainment. If you would like more information on this active group of caring folks, contact our church office at 972.564.3357 or email Bro. Jerry Griffin.
August 30...Covered dish meal and program by Hootins Family Gospel Trio.
September 27...Covered dish meal and program by Sharon Seaton, Accordionist with Class.
October 25...Covered dish meal and program TBD.
December 6...Christmas catered meal and program by Shannon Bunch.
Trips & Other Events
Fall Trip: The Ark Encounter and Creation Museum
Sept. 16-22 to Williamstown, KY. See a full size Ark built to biblical dimensions! Spanning 510 feet long, 85 feet wide, and 51 feet high, the modern engineering marvel amazes visitor young and old. We will also tour the Creation Museum, plus other attractions in the area.
Senior Adult Day Trips
State Fair of Texas
Thursday, Oct. 11 to Fair Park Dallas. Bus will depart FB Forney at 9:30a. We will depart the Fair Grounds around 3:00p. Sign up in your Bible Study class.
Heritage Syrup Festival
Saturday, Nov. 10 to Henderson, TX for the Heritage Syrup Festival. Step back in time and watch mule powered sugar cane syrup making. Only Folk Life festival in East Texas which features: Syrup making, folk artist, antique tractors, bluegrass music, story telling, fun food and much more. Bus departs at 8:00a. Bring money for lunch on your own. Sign up in your Bible Study class.
Day Trip to Granbury for A Christmas Carol
Saturday, Dec. 1 to Granbury, TX. Day trip includes shopping on the square, lunch on your own and attending the musical "A Christmas Carol." Cost is $25pp. Pay in the Church Office or give to Bro. Jerry by Thursday, Nov. 1.
---
Staff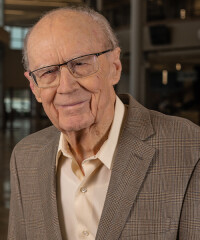 Rev. Jerry Griffin is our Senior Adult Pastor. Click here to email his assistant, Lisa.