Senior Adult Ministry
"Gray hair is a crown of splendor; it is attained by a righteous life." Proverbs 16:31
Senior Adults at First Baptist Forney are some of the most active members of the church. Our 1st Tuesday Senior Adult Ministry Luncheons, Best Yet Nights, trips, and volunteer work are typical events on the monthly schedule of activities for this group. Come and get involved! The Senior Adult Ministry at FBC is a fellowship of friendly, caring and loving Seniors! We are anxious to meet and share with you all the many wonderful things God is doing in our midst!
Sunday Worship
8:00 a.m. Blended Worship with Praise Teams and First Praise Adult Choir
9:30 a.m. Encounter Band-Led Contemporary Worship
11:00 a.m. Encounter Band-Led Contemporary Worship
Sunday Bible Study
Classes meet at 9:30 a.m. and 11:00 a.m. Click below for a list of classes, locations, and teachers.
Wednesday Nights
Join us for Mustang Creek Traditional Worship Service held on Wednesdays at 6:30 p.m. in the Chapel. Led by Rev. Jerry Griffin.
1st Tuesday Lunch
This is an opportunity for our Senior Adults to enjoy one-on-one time with a member of the church staff. 1st Tuesday Lunch is an every other month event. Details in your Bible Study.
Best Yet Nights
Especially favored are the Best Yet Nights, typically the last Thursday of the month, where the attendees enjoy a potluck dinner and special entertainment.
March 28: Program by Rosemary Rumbley and Jill Beam.
April 25: Program by Ransomed, Southern Gospel Trio.
May 30: program by Trusting Hymn, Gospel Ladies Trio.
Trips & Other Events
May 16: Singing Men of North Texas concert at FBC Garland. Bus departs at 4:30p for dinner at Lubys before 7:00p concert.
May 20-23: Spring Trip to BRANSON, MO
Itinerary:
Monday Travel to Branson. Hotel Check-in at the Center Pointe Inn
6 pm Dinner at the Grand Country Buffet
7:30p Grand Jubilee
Tuesday Breakfast at the hotel
10 am Blackwoods Gospel Morning Show
12:30p Lunch at the Uptown Café
Afternoon to enjoy at leisure – shopping or sightseeing
6 pm Dinner at the Black Oak Grill
8 pm The Dutton's Show
Wednesday Breakfast at the hotel
Open morning to enjoy at leisure
3:30 pm Samson! at Sight & Sound Theater
6:15 pm Dinner at Uptown Café
8 pm Presley's Jubilee
Thursday Breakfast at the hotel
Return home with many great memories to share
Package includes: 3 nights lodging, 7 meals (3 breakfasts, 3 dinners, 1 lunch), luggage handling at the hotel, all admissions & sightseeing as listed, all taxes and meal gratuities.
Pricing: Sgl: $575 Dbl: $449 Tpl: $425 Quad: $405
Costs include all taxes, service charges, bus & meal gratuities.
Sign Up: In Church Office with $100 deposit or on the link below. Deadline to sign up is April 1. Final payment due by May 1.
September 15-21: Fall Trip to COLORADO
Fall trip to Garden of the Gods, the Royal Gorge and Colorado Springs! Includes motor-coach transportation; 6 nights lodging; 10 meals, tour of Garden of the Gods; visit to Air Force Academy; visit to Royal Gorge; Historic Manitou Springs at Pikes Peak; guided tour of Colorado Springs and visit to the US Olympic Training Center.
ITINERARY
Day 1
Depart FB Forney. Check into an en route hotel.
Day 2
Continental Breakfast before continuing trip. Later, enjoy a relaxing Dinner and check into your Colorado Springs area hotel for four nights.
Day 3
Continental Breakfast before heading for a visit to HISTORIC MANITOU SPRINGS located at the foot of famous PIKES PEAK. Then you will depart for guided tour of GARDEN OF THE GODS, the magnificent park of red sandstone formations, a spiritual retreat of ancient peoples. This, evening, enjoy Dinner at a local restaurant.
Day 4
Continental Breakfast, then depart with your guide for a guided tour of Colorado Springs. You will go to the U.S. OLYMPIC TRAINING CENTER; Olympic Visitor Center, which is located at the Training Center and includes the U.S. Olympic Hall of Fame Rotunda. Then, you'll depart with your guide to the impressive UNITED STATES AIR FORCE ACADEMY. Tonight, enjoy Dinner at a local restaurant.
Day 5
Continental Breakfast, you will depart for COLORADO'S "NATURAL WONDER" - the ROYAL GORGE. At the Royal Gorge Bridge and Park, you will have an opportunity to view the breathtaking Gorge, cross the suspension bridge and ride the AERIAL TRAM. You will also have an opportunity to visit the entirely new Visitor Center or step back in time and explore the story of the Royal Gorge at the PLAZA THEATRE. Tonight, you will enjoy Dinner with Entertainment.
Day 6
Enjoy a Continental Breakfast before leaving for the Capulin Volcano National Monument Visitor Center. This evening, relax at your en route hotel.
Day 7
Continental Breakfast, you depart for home… a perfect time to chat with your friends about all the fun things you've done, the great sights you've seen, and where your next group trip will take you!
PRICING
$665 per person, based on double occupancy
$945 for single occupancy
A $75 deposit (per person) is due upon registration, and final payment is due on July 8, 2019.
REGISTRATION DEADLINE IS WEDNESDAY, MAY 15.
---
Staff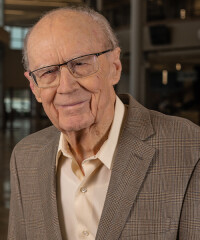 Rev. Jerry Griffin is our Senior Adult Pastor. Click here to email his assistant, Lisa.