Missions Ministry
And Jesus came and said to them, "All authority in heaven and on earth has been given to me. Go therefore and make disciples of all nations, baptizing them in the name of the Father and of the Son and of the Holy Spirit, teaching them to observe all that I have commanded you. And behold, I am with you always, to the end of the age." Matthew 28:18-20
Pray
At First Baptist Church we take the Great Commission seriously and personally. Our children participate in mission's education ministries such as Girls in Action and Royal Ambassadors. We also offer Missions and Evangelism training throughout the year and develop mission engagement within our Student and Adult Bible study groups. God calls His disciples to make our requests known to Him in prayer (Phil. 4:6). Please commit to praying for our Missions Ministry.
Pray for individual missionaries and missionary teams who commit to short-term mission trips and for their families.
Pray for specific people groups and for the mission agencies which serve missionaries.
Pray for more supporters of missions and for future missionaries to be raised up.
Pray our missionary partners and mission teams have boldness, protection, good health, love for God, opportunities, grace, humbleness, mercy, wisdom, a healthy family, opportunities, joy, peace, and resources.
Pray that God will use you in whatever way He wills.
Give
Not only do we support world missions in discipleship training and prayer, but also with our finances. Ten percent of our budget goes to support mission causes outside our own church. With this money, we help support vocational missionaries of the International Mission Board and the North American Mission Board. We support these missionaries through what we call the Cooperative Program of the Southern Baptist Convention. We also encourage people to give throughout the year to the FBC Forney World Missions Offering. You may give at the link below or designate World Missions on an offering envelope and place it in one of the foyer receptacles following the service.
Go
Finally, the desire of our church is for individuals to experience missions personally. We take annual mission trips to locations all over the world. We also encourage each of our Bible study groups to go and make disciples in our community through a local mission project. Join us in our desire to take the gospel of Jesus Christ to Forney, our State, our Country and the World for the glory of His name!
---
Local Mission Opportunities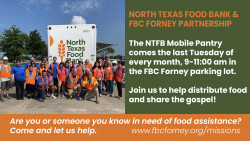 NORTH TEXAS FOOD BANK PARTNERSHIP: FEEDING FORNEY
The NTFB Mobile Pantry comes to Forney the last Tuesday of every month, 9-11:00 a.m. in the FBC Forney front parking lot. Join us to help distribute food and share the gospel! Please arrive by 8:30 a.m. to help set up. Questions: Contact Kirk at
WOOLLEY MIDDLE SCHOOL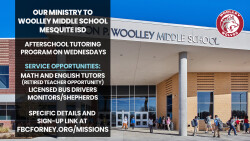 FBCF is ministering to Woolley Middle School in Mesquite ISD with an afterschool tutoring program on Wednesdays throughout the school year.
There are three areas of service that we need people: (Please note everyone is subject to a background check.)
Tutors will work with students in the subjects of Math and English between 4:00p - 4:45p. Any retired educators would be a great fit! Even if not retired, join us! You will be used wisely.
Bus drivers will transport the students from WMS to FBC Forney at 4:46p in time to have Wednesday night supper and then back to WMS from FBC Forney after student ministry services end around 8:00p.
Monitors/Shepherds will guide and direct student visitors during supper and then lead them into the student ministry garage by 6:30p for Wednesday night worship.
Wednesday Schedule:
4:15-5:00 pm Tutoring Sessions
5:15 pm Meal at church
5:50-6:30 pm Hang out in Garage
6:30 pm The House Student Service
8:00 pm Load bus
8:30 pm Drop off back at Woolley
FORNEY ISD HYGIENE KITS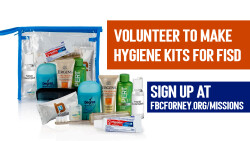 Each month, FBCF is providing personal hygiene product kits to FISD for every student on the free food program who also cannot afford those products (toothbrush, toothpaste, deodorant, shampoo, etc.). This is 300+ students.
Kit supplies are needed, if you can help, click the Amazon Wish List link below:
---
2024 North Am/International Mission Trips
Alaska - Iditarod Finish Line:
Trip dates are March 7-15, 2024.
We will join Alaska Missions in their eighteenth year the lditarod finish line. Our task is two-fold: reach the local musher subculture as well as the local indigenous populations of the Bering Straits Region. Click here for a trip brochure.
Southeast Africa:
Trip dates are April 11-20, 2024.
We will be sharing our faith with university students and Diaspora. Also, in the business market with Muslim people from Somalia and Central Asia. Click here for a trip brochure.
Paris, France:
Trip dates are May 13-19, 2024.
We will be offering Henna designs on women's hands in market areas where North African women do their shopping. Click here for a trip brochure.
---
2024 North American Trips
TBA
---
Resources & Forms
Mission Trip Agreement (must be printed and signed)
---
Staff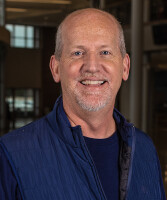 For more information, contact Kirk Luecke, Evangelism and Missions Pastor at .