College Ministry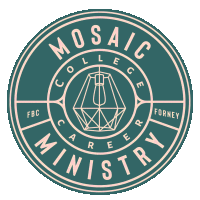 At First Baptist Forney, we believe the 18-24 year old age group is prime to make a difference in our community. We invite and welcome young adults to engage in leadership roles in all aspects of our ministry.
The name of our College Ministry is Mosaic.
Weekly Worship and Bible Study
SUNDAYS
Bible Study at 9:30 a.m. in room A112.
Encounter Worship at 11:00 a.m.
Mosaic: Fellowship & Discipleship at 5:30 p.m. in the Coffee Shop.
WEDNESDAYS at 6:30 p.m.
College students are encouraged to serve in our Children's or Students Ministries or attend an Adult Discipleship class during the school year.
Whether you are here full time or just on holidays and summers, we invite you to come be a part of what's going on in the College Ministry.
Social Media
Come join us! Activities are announced on our Instagram page.
Summer Calendar
Follow us on Instagram for details or contact James at .
June 7: Disc Golf - Meet at 6:30p at Harry Myers Park in Rockwall
June 21: Mini Golf - at Top Golf in Dallas. Meet at the church at 6:00p.
July 5: Board Games - 6:30p in the Mall
July 16-20: VBX Service Week
July 26: Kick Ball - 6:30p on the church fields
Aug. 2: Open Gym - 6:30p in the church gyms
Aug. 6: Slip and Slide Kickball at 5:30 on the church fields
Aug. 13: Worship Night at 4:30p
Pickleball Nights
Join us for pickleball on the following nights. Bring your own racquet or borrow one of ours. Location: FBCF gyms from 6-8:30 p.m.
June 14
June 28
July 5
July 26
Aug. 9