Women's Ministry
Everything about the Women's Ministry is planned with the unique needs of women in mind. Through Bible Studies, mom's groups, retreats and special events, we provide opportunities for women in all circumstances to become fully developing followers of Christ while building lasting relationships with women just like you.
Many weekly Bible studies are always underway, led by lay-women with a passion for serving the women of this church. See class information below.
Our Vision
Equip you in God's Word and grow you in a relationship with the Lord.

Enable you to discover your God-given gifts for ministry, determine needs in our church and community, and match those needs with your gifts of service.

Encourage you to build friendships within the body of Christ.

Edify and pray for each other.
Our Bible Verse
"Let us hold tightly without wavering to the hope we affirm, for God can be trusted to keep His promise. Let us think of ways to motivate one another to acts of love and good works. And let us not neglect our meeting together, as some people do, but encourage one another, especially now that the day of His return is drawing near." Hebrews 10:23-25
---
2023-24 Upcoming Events
We can't wait to see you! Mark your calendars for the following: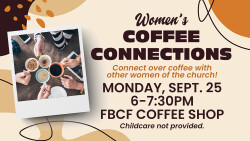 Coffee Connections: Sept. 25, Nov. 14, Feb. 12, Mar. 21
Come buy your own drink at Higher Grounds Coffee shop and enjoy fellowship with FBC women. A very casual event for you to meet new women and catch up with ladies you miss seeing throughout the year. It will be a great time of encouragement. Childcare will not be provided.
Monday, Sep. 25 is 6-7:30 PM
Tuesday, Nov. 14 is 8-9:30 AM
Monday, Feb. 12 is 8-9:30 AM
Thursday, Mar. 21 is 6-7:30 PM
Equip Workshops: Oct. 1 and Jan. 26-27

Held in different formats at different day and times throughout the year, these workshops will give us biblical understanding and practical tools on a variety of topics like marriage, parenting in different ages/stages, caring for aging parents, hospitality, theology and so much more!
Biblical Hospitality will be a time to understand what biblical hospitality is and gain some great ideas and practical tools for hospitality from a panel of experienced and gifted ladies. Sunday, October 1 at 4:00 p.m. in the Great Hall. Registration is not required. Simply attend!
Brunch: Oct. 21 and May 4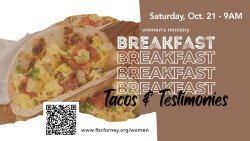 Brunch will give us an opportunity for fun and creative fellowship and encouragement with FBC women.
Saturday, Oct. 21 - Tacos & Testimonies - 9:00 a.m. in the Great Hall
Join FBC ladies for a time of testimonies, fellowship and breakfast taco brunch.
Cost: $7. Childcare is not provided.
Christmas Celebration: Dec. 4
This will be a great opportunity for you to round up your friends from the community to give them a glimpse of Christ as we celebrate His birth.
Spring Retreat: Apr. 5-6
Don't miss this special time to get away with FBC women to step away from the distractions of the daily grind and experience more of Christ. This event will have a limited number of tickets so mark your calendar for April 5-6 and get that childcare arranged now!
---
2023 Fall bible study classes
Please note start dates and times.
Wednesday mornings at 9:00 a.m. and evenings at 6:30 p.m. beginning Aug. 30: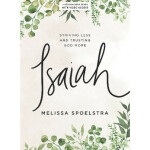 Isaiah - Striving Less and Trusting God More by Melissa Spoelstra
Led by Nicole Lino
Following God isn't about striving; it's about trusting. As you study the chapters Isaiah wrote—from his challenging words to the nation of Israel to his prophecies of the Messiah to come—learn to rest in God's promises and grow in trust. In this 7-session study, Isaiah's words will reveal that you can trust God more than your own human effort or the counterfeits the world suggests. You won't be striving harder, but instead trusting more deeply the Faithful One who is so worthy of our utter dependence. In Him you'll find the comfort and peace you need to sustain you. Workbook cost: $22. Meets in Rooms A101-A102.
Wednesday mornings at 9:00 a.m. and evenings at 6:30 p.m. beginning Sept. 6:

Jacob's Sons written and led by Laurie Barnett
Join us in this 10-session study of the twelve tribes of Israel. We will explore the prophecies given to Jacob's sons, their successes and failures, and their importance throughout the pages of God's Word. Worksheet cost: $5pp. Meets in room A107.
Monday evenings at 6:30 p.m. beginning Sept. 11:
From Beginning to Forever by Elizabeth Woodson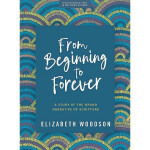 Led by Dian Wade
Many Christians today are daunted by the Bible, seeing the size and scope of Scripture as intimidating and overwhelming. The result is often a fragmented understanding of parts of the Bible, which leads us to view it through the lens of our individual stories, primarily looking for different verses or passages to help us live our everyday lives. But, in our search for personal truth, we fail to see how the entirety of Scripture works together to show a bigger story—God's work to redeem and restore the entire world. In From Beginning to Forever, Elizabeth Woodson guides you through the story of the Bible, showing how all 66 books combine to form one unified narrative. Weaving together the rich theological truths found in Genesis through Revelation, this 8-session study shows the eternal significance of what God is doing in the world and how he invites us to be a part of it. Workbook cost: $22. Meets in room D070.
Click here to register for classes
---
Social Media
We're posting some things on the Women's Ministry Facebook page and Instagram for you. It may be a video, it may be a devotional or it may just be a topic that you could comment on and interact with the ladies from the church. If you haven't liked the Facebook page already, here's the link:
Women's Ministry Facebook Page
Women's Ministry Instagram Page
---
STAFF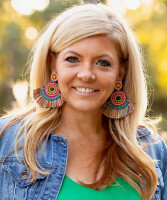 For more information, contact Nicole Lino, Women's Ministry Director at .