Women's Ministry
Everything about the Women's Ministry is planned with the unique needs of women in mind. Through Bible Studies, mom's groups, retreats and special events, we provide opportunities for women in all circumstances to become fully developing followers of Christ while building lasting relationships with women just like you.
Many weekly Bible studies are always underway, led by lay-women with a passion for serving the women of this church. See class information below.
Our Vision
Equip you in God's Word and grow you in a relationship with the Lord.

Enable you to discover your God-given gifts for ministry, determine needs in our church and community, and match those needs with your gifts of service.

Encourage you to build friendships within the body of Christ.

Edify and pray for each other.
Our Bible Verse
"Let us hold tightly without wavering to the hope we affirm, for God can be trusted to keep His promise. Let us think of ways to motivate one another to acts of love and good works. And let us not neglect our meeting together, as some people do, but encourage one another, especially now that the day of His return is drawing near." Hebrews 10:23-25
---
Events
"THE FIRST CHRISTMAS" WOMEN'S CHRISTMAS COFFEE & DINNER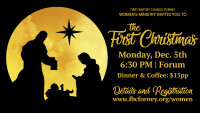 You're invited to a celebration of the season with the women of First Baptist Church Forney on Monday, Dec. 5 at 6:30 p.m. in the Forum. Doors open at 6:00 p.m. Enjoy Christmas music, fellowship, a nice meal and coffee. Invite your friends to join you!
The cost is $15 pp. Registration is required by Nov. 20. (link below)
Mission Project: We will be collecting non-perishable food items for the Forney Food Pantry at this event. Bring your items to drop off!!
Please note: The Christmas Coffee and Dinner will be open seating. Of course you may arrive with and sit with friends; however, please refrain from saving multiple seats for the sake of new members and guests.
---
bible study classes

A Study of Proverbs 31: A Woman of Valor by Laurie Barnett
Wednesdays mornings beginning Aug. 24 at 9:00 a.m. in the Great Hall AND
Wednesday evenings beginning Aug. 24 at 6:30 p.m. in room D068.
Today, many "cultural" voices seek to tell us how to live as women. In this study, we will examine femininity as revealed by God in His Word. Empowered by the Holy Spirit, the Proverbs 31 woman is courageous and honorable, blessing all who touch her life. Join us on this exciting and challenging journey as we seek to become the women God has called us to be…women living abundantly, purposefully, and fully devoted to Him.

From Providence to Purpose – A six week study of Esther by Tony Evans
Wednesday evenings beginning Aug. 24 at 6:30 p.m. in room D070.

Study Guide/Workbook cost: $14
God has a purpose for your life, and He uses every action and event that occurs in it to make that purpose a reality. The biblical account of Esther appears to be a series of coincidences strung together that deliver the Jews from certain death. However, God selected Esther for a particular purpose at a particular time in the history of His chosen people.
In this six-week Bible study, you'll discover your pathway to purpose as you learn and apply principles of God's providence. You'll learn to recognize the power of God's providence in the midst of your personal pain, fear, gain, loss, and love. In addition, you'll be awed by the very personal nature of God as He guides humanity, leading each of us with His intended purpose for our lives.

God of Freedom – A 10 week study of Exodus 19-40 by Jen Wilkin
Wednesday mornings beginning Aug. 31 at 9:00 a.m. in room D070.
Workbook cost: $25 (Videos associated with this product will be available in the Lifeway On Demand app after following redemption instructions in the book.)
God of Freedom is a 10-session video Bible study on Exodus 19-40 which explores what freedom looks like for the Israelites under God's good rule and good laws. This study walks through verse-by-verse, revisiting scenes from the Ten Commandments, golden calf idle worship, and the tabernacle. Jen Wilkin invites you to discover a new perspective on Exodus and what these stories can teach us today about how to live as those set free from sin and death.

God of Deliverance – A 10 week study of Exodus 1-18 by Jen Wilkin
Monday evenings beginnings Sept. 12 at 6:30 p.m. in room D070
Workbook cost: $16; 10-week study
"Blessed be the Lord, who has delivered you." —Exodus 18:10
With that introduction, we enter into the story of the Hebrew people in the book of Exodus. No longer under the protection of their forefather Joseph, the children of Israel became slaves to the Egyptians. But God was raising up a deliverer in Moses, to lead His people from bondage to freedom so they could worship Him. The exodus of the Israelites shapes our understanding of the whole Bible, its themes reverberating all the way to Revelation. Exodus is the birth narrative of a nation unmistakably guided by the Great Deliverer. In this 10-session verse-by-verse study of Exodus 1–18, Jen Wilkin shows us that Israel's story is our story: the same God who delivered Israel also delivers all those He loves from slavery to sin and from service to the pharaohs of this world. He lifts our eyes to the promised land He has prepared where we dwell with I AM and worship Him as the one true God.
Click here to register for the above classes
Kingdom Divided: Thursdays starting September 15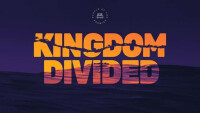 How does the Old Testament point us to Jesus? Get the answer to that and much more as the Forney Evening Women's Bible Study Fellowship (BSF) begins a study of the Old Testament - People of the Promise: Kingdom Divided. This class begins Thursday, Sept. 15 at 6:45 p.m. in rooms A101-102 at First Baptist Church Forney and runs until May. This international, interdenominational Bible study features daily questions for solo study, weekly discussion groups, a lecture on the passage, and next-level notes from scholars. Contact Lisa Foster at with questions. To register, go to www.bsfinternational.org. For more information on the study, visit https://www.bsfinternational.org/our-studies/kingdom-divided/.
---
2022-23 GATHER
Registration for the new season is May 15-July 15, 2022.
Gather is a Women's Ministry program that connects all age women, from high school graduates to 100+ years old. Ladies that still have children in their homes or young singles are called Sisters. Ladies that are beyond the "children" years are called Moms. The purpose of Gather is to bring generations of women together to build friendships that honor God and to encourage one another as we grow in our relationship with Christ and become the women that God intends for us to be.
Gather groups meet in homes monthly through the school year. Note: Groups will meet on Thursdays this season.
Gather Childcare is available during your Gather activities.
Below are short informational sheets for both "Sisters" and "Moms." Please read over that then register below. Spots are limited. Once full, your name will be added to our waitlist.
"Sister" Information Sheet
Click here to register as a Sister
"Mom" Information Sheet
Click here to register as a mom
CHILDCARE
Childcare is available during your Gather activities.
---
Social Media
We're posting some things on the Women's Ministry Facebook page and Instagram for you. It may be a video, it may be a devotional or it may just be a topic that you could comment on and interact with the ladies from the church. If you haven't liked the Facebook page already, here's the link:
Women's Ministry Facebook Page
Women's Ministry Instagram Page