Christmas at First Baptist Forney
Join us at First Baptist Forney and rediscover the true meaning of CHRISTmas! This December we will have special music and activities that you won't want to miss! We hope to see you this season.
Poinsettias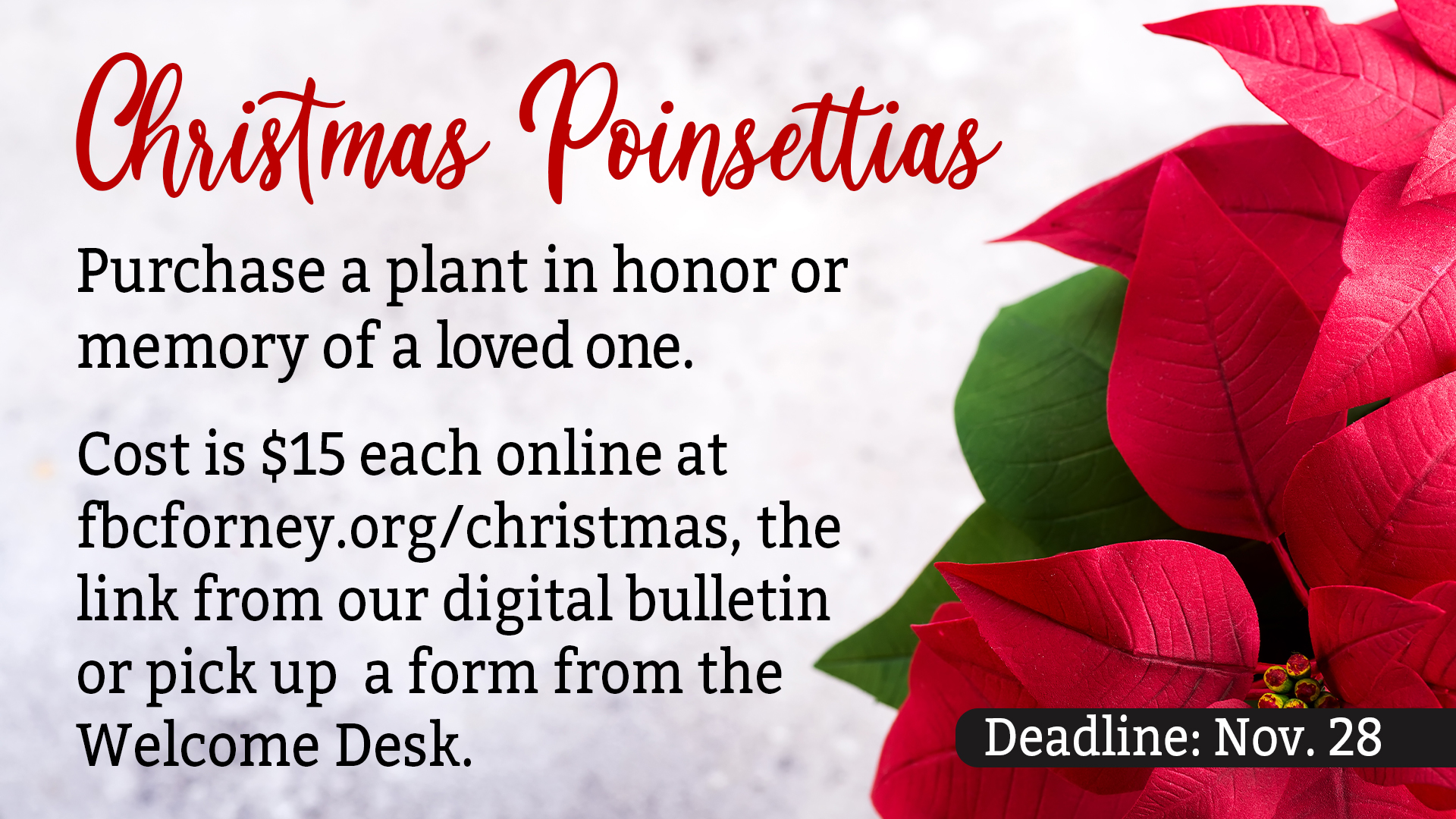 Every season we offer poinsettias for purchase in honor or in memory of a loved one. The plants will be used to decorate the Worship Center during the month of December and will be available for pick up after the Christmas Eve Candlelight Service on Friday, December 24. Plants are $15 each. Deadline to order is Nov. 28.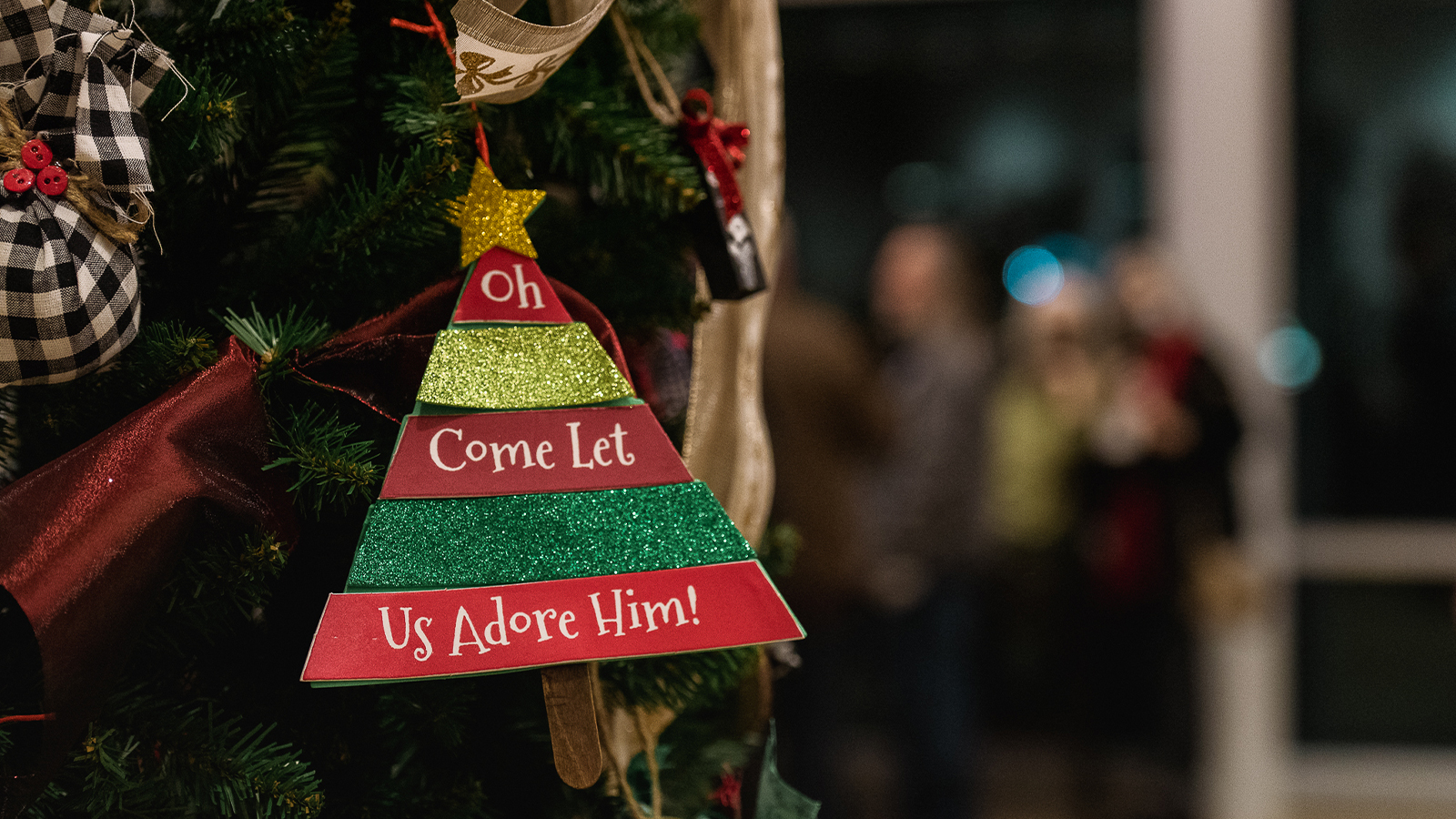 GA Christmas Tree
Stop by our Girls in Action (GA) tree in the Mall this December and purchase a handmade ornament! The girls have worked hard to create these. All proceeds will be giving to the Lottie Moon Christmas offering.
Women's Christmas Coffee & Dinner
Women of all ages are invited to join us for dinner, coffee and music on Tuesday, Dec. 7 at 6:30 p.m. in the Forum! Don't miss this annual event featuring guest speaker Rebecca Carrell.
Senior Adult Holiday Meal
Our Senior Adults invite you to celebrate with them at their annual Best Yet Holiday Meal. This catered dinner is at 6:00 p.m. on Thursday, Dec. 9 in the Forum. Cost is $5pp at the door. Musical program by "Audience of One" Ladies Ensemble. Details and registration located here.
Childcare for Adult Christmas Parties
FB Forney will provide free childcare for all Bible Study classes who want to host an off-site Christmas Party on Saturday, Dec. 11 from 6-9:00 p.m. Sign up in your Sunday Bible Study classes.
Student Operation Christmas Child Warehouse Volunteer Day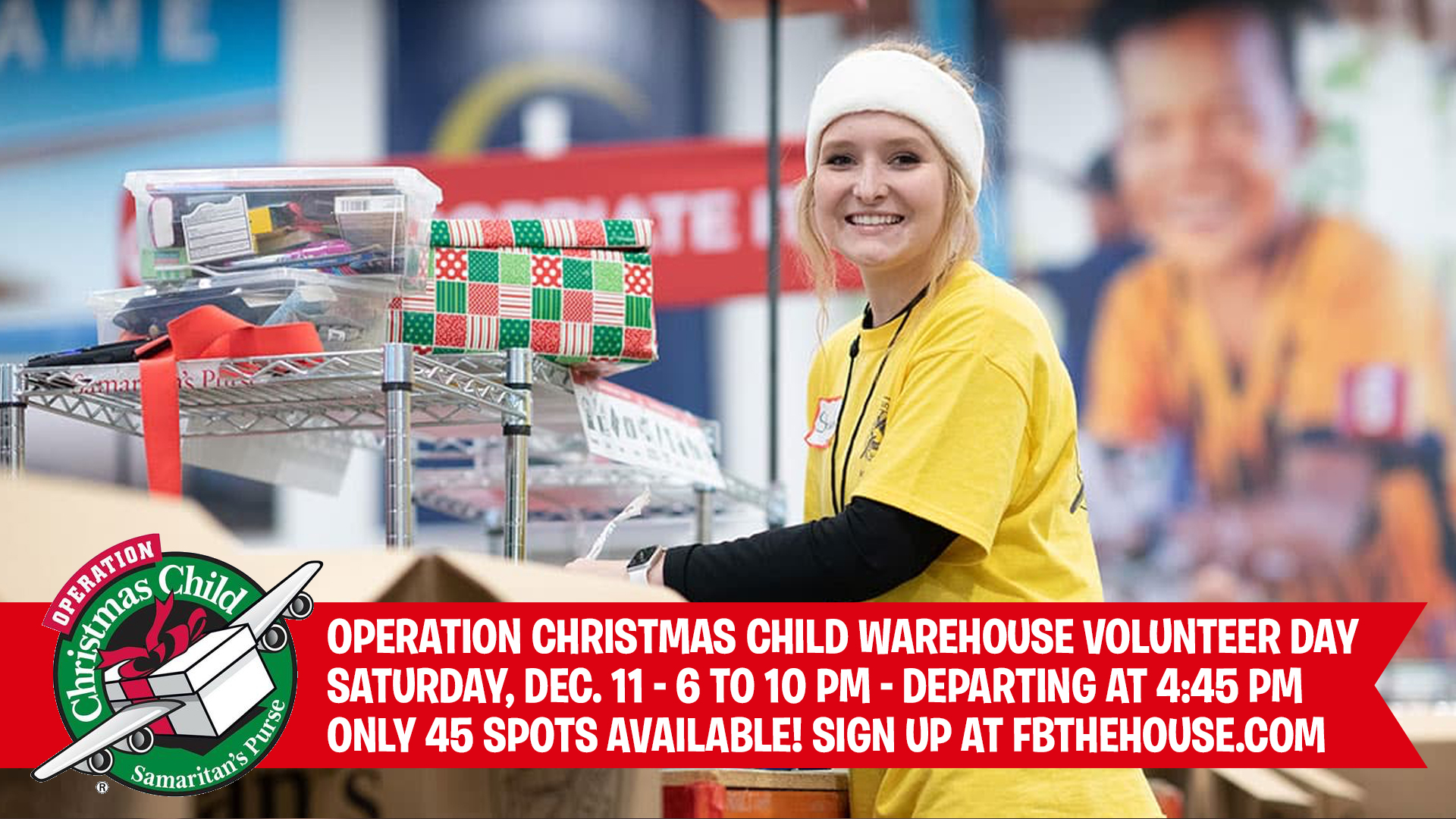 Students in grades 7-12 are invited to volunteer at the OCC Warehouse on Saturday, Dec. 11 from 6:00 - 10:00 p.m. Bus is departing the church at 4:45 p.m. There are only 45 spots available. Sign up today at fbthehouse.com.
Christmas in the Mall & Musical Celebration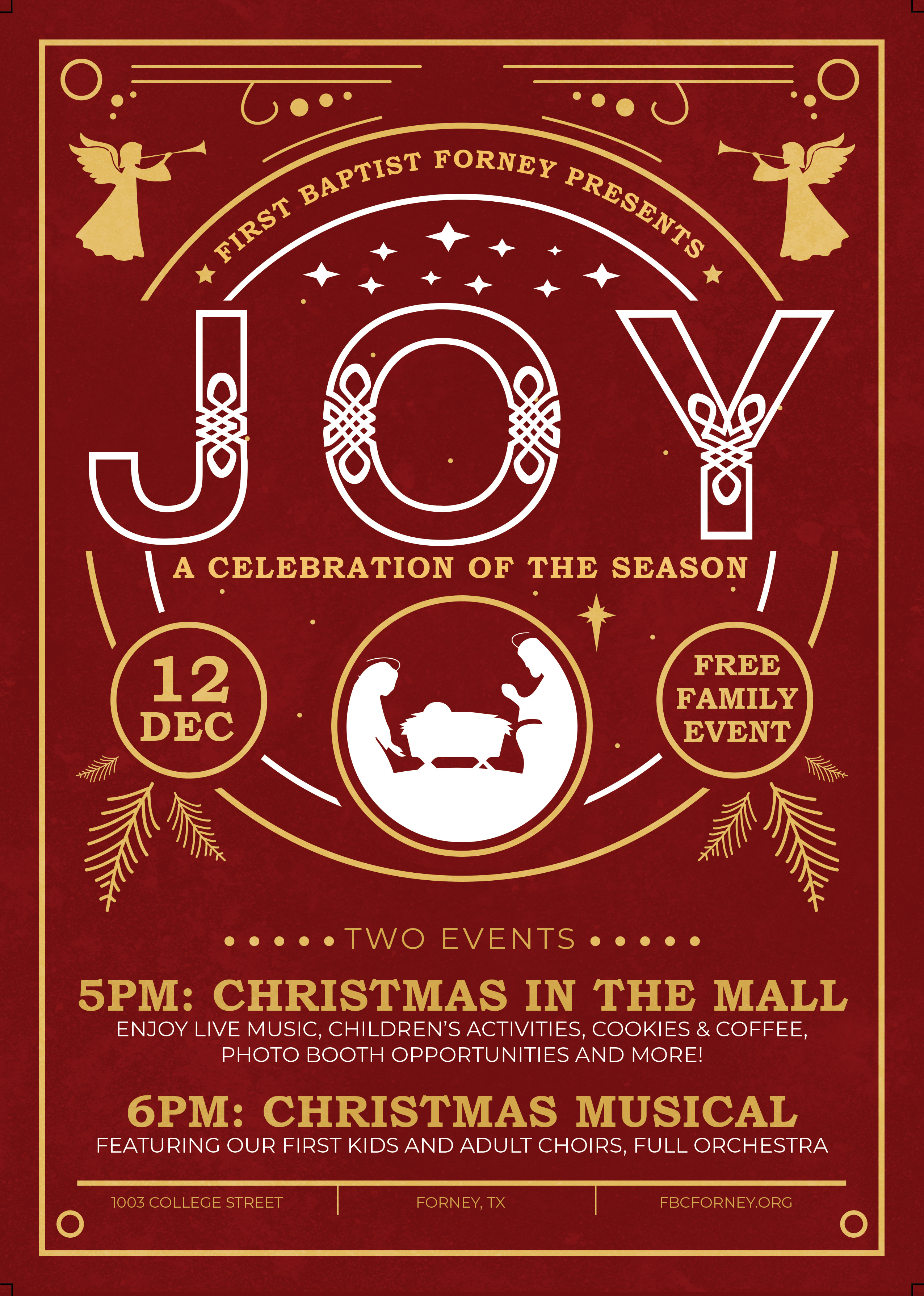 The whole community is invited to celebrate the sounds of the season on Sunday, Dec. 12! It's free and no need to register.
5:00 p.m. is Christmas in the Mall. Enjoy live music, coffee, cookies, photo booth opportunities, children's crafts and more!
6:00 p.m. is our Christmas Worship Experience, "JOY." Featuring the 1st Kids Worship Choir and First Adults choirs, praise teams and orchestra.
First Friends Christmas Parents Day Out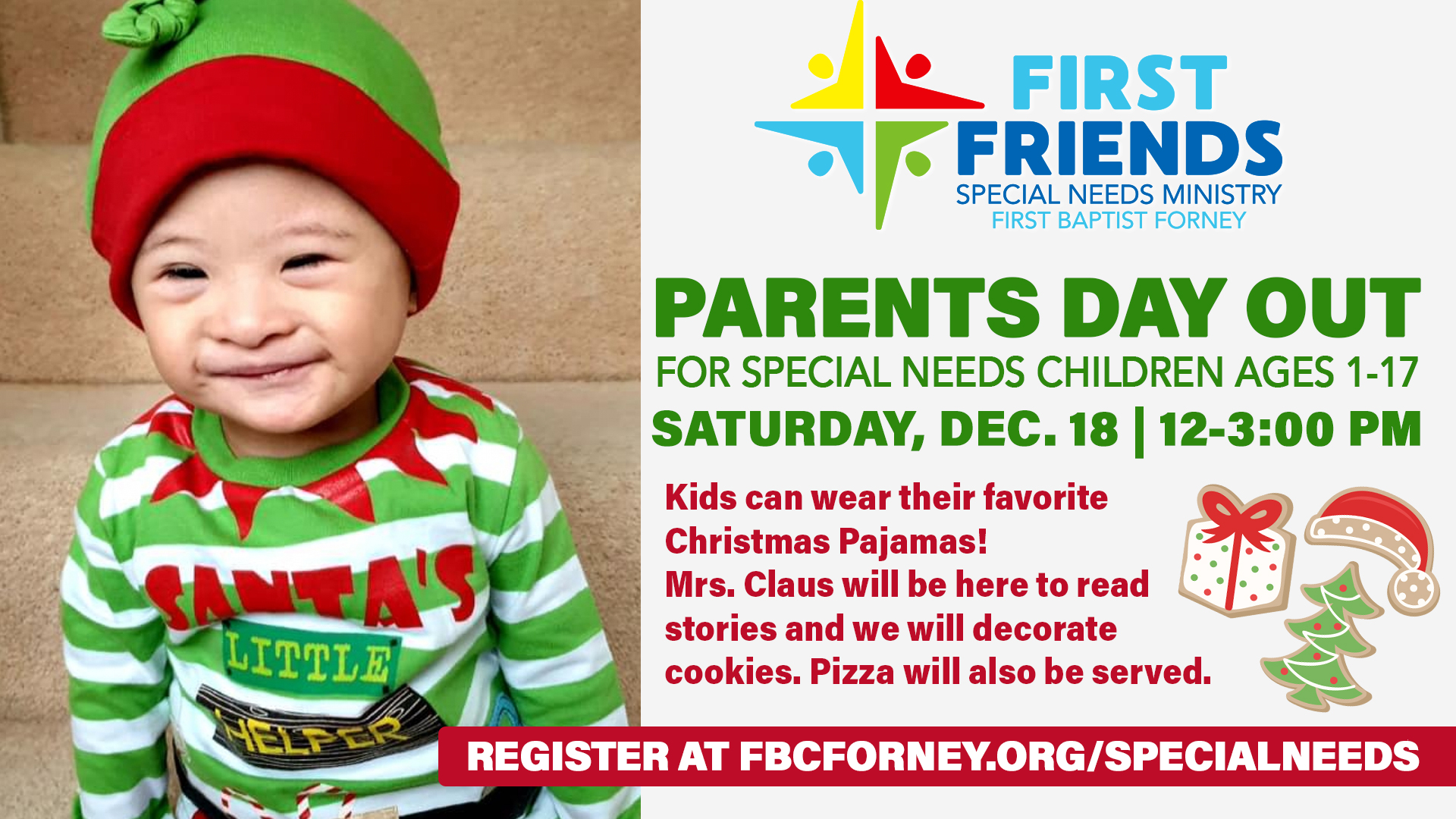 Our First Friends Special Needs Ministry will offer a Parents Day Out on Saturday, Dec. 18 from 11:00 a.m. - 2:00 p.m. for parents of all special needs children ages 1-17. You can drop off your children in a fun and safe environment while you finish up some Christmas shopping! Kids can wear their favorite Christmas Pajamas! Mrs. Claus will be here to read stories and we will decorate cookies. Pizza will also be served.
Christmas Eve Candlelight Lord's Supper
On Friday, Dec. 24 at 4:30 p.m., don't miss this family favorite activity featuring Christmas carols, the Lord's Supper and the lighting of candles.
Christmas Worship Services
The entire month of December will feature special holiday worship music.
Dec. 5-19:

Sunday Worship Services at 9:30 & 11:00 a.m.
Dec. 26: One Worship Service at 11:00 a.m. only. No Bible Study classes on this date.
Jan. 2: Sunday Worship Services at 9:30 & 11:00 a.m.
Christmas Hours and closings
Please note the following special hours/closings:
Dec. 22 & 29: No Wednesday Night activities
Dec. 24, Dec. 27-31: Church Office will be closed