Christmas at FBCF
Celebrate the Birth of Christ!
Christmas time is here and we want to celebrate with you at First Baptist Church Forney! We have several fun Christmas activities to make this season special - not to mention insightful preaching to make the true story of Christmas come alive.
If you are looking for a place where you will find encouraging, biblically-based messages, warm fellowship and beautiful music, then FBCF is the church for you. Our services and activities include something for the whole family. Joins us this Christmas!
Sunday Worship at 9:30 and 11:00 am
Christmas at FBCF kicks off on Sunday, Nov. 26. Each Sunday through Dec. 31 will we feature Christmas music, decorations and photo booth opportunities.
Sunday, Dec. 17: Special Christmas musical selections by our Adult and Children's choirs.
Sunday, Dec. 24: No morning worship services or Bible study classes. Don't miss our Christmas Eve Candlelight Services with special guest Shane Pruitt. We will have three services: 1:30 p.m.; 3:00 p.m.; and 4:30 p.m. Our Outdoor Extravaganza will be open from 12:30 p.m. - 6:00 p.m. See details below.
Sunday, Dec. 31: No Bible Study Classes. One Worship Service at 10:45 a.m.
Missions Workshop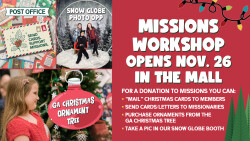 Our Missions Workshop is new this year and opens Sunday, Nov. 26 in the Mall. For a minimum .25 cent donation to missions you can "mail" Christmas cards to others within our church, send cards/letters to missionaries, purchase handmade ornaments from our GA tree (see suggested donation on-site) and take a photo in our snow globe booth!
Greatest Gift to Jesus Missions Offering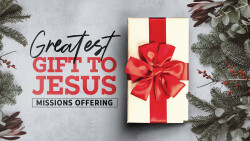 Our first annual Greatest Gift to Jesus Missions Offering Day is Sunday, Dec. 3. In honor of Christ's birth, throughout the month of December, we are collecting a special missions offering to accelerate the spread of the gospel from our city to the ends of the earth. 100% of this offering will go to missions. We encourage you to consider giving an offering over and above your regular tithe. You may give either in our services or online at fbcforney.org/give. Choose either the "GGTJ" or the FBC Missions" funds.
Women's Ministry Christmas Celebration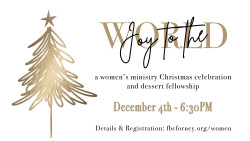 Monday, Dec. 4 at 6:30 pm in the Forum
Women of all ages in the community are invited to join us for an evening celebrating Jesus Christ and the joy He brings to the world. We will be challenged by a visiting missionary from a country in southeast Africa, worship with Christmas carols and enjoy an around the world dessert fellowship.
Details and registration at www.fbcforney.org/women
Senior Adult Best Yet Christmas Catered Meal and Program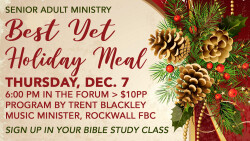 Thursday, Dec. 7 at 6:00 pm in the Forum for all senior adults in the community
Dinner at 6:00 p.m. Sit-Down Catered Meal. Cost is $10 per person, pay at the door.

Deadline to sign up: Monday, Nov. 27. Email

Program begins at 7:00 p.m. by Trent Blackley. Blackley is the Minister of Music at Rockwall First Baptist Church.

Details at www.fbcforney.org/senioradults
Christmas Eve Outreach Blitz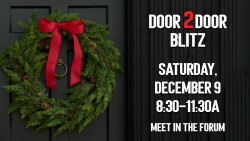 On Saturday, Dec. 9, we need everyone who is able to attend our Door 2 Door Blitz. Meet at 8:30 a.m. in the Forum for coffee and donuts. We will go door to door using our Christmas Eve outreach cards to invite as many families as we can to our Christmas Eve Extravaganza!
Sunday Worship and Christmas Choir Celebration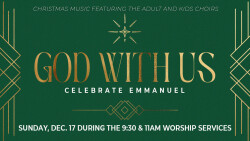 Sunday, Dec. 17 at 9:30 am and 11:00 am
This year our Adult and First Kids Choirs will perform Christmas musical selections during our Sunday, Dec. 17 worship services at both 9:30 and 11:00 a.m. Don't miss this special time of worship and celebration. Everyone in the community is invited!
Mosaic College & Career Christmas Party
Sunday, Dec. 17 at 4:30 pm in the Mall
All college aged young adults are invited to a Christmas party in the Mall! Enjoy this time to meet new young adults your age or catch up with friends who have been away at school.
Christmas Eve Outdoor Extravaganza and Candlelight Services
FREE for the whole family! Includes Snow tubing; ice rink; petting zoo with exotic animals; photo booths; cookie and ornament decorating; carnival games; dickens carolers and more!
Sunday, Dec. 24
12:30 pm Outdoor Extravaganza Opens
1:30 pm Candlelight Service with Shane Pruitt
3:00 pm Candlelight Service with Shane Pruitt
4:30 pm Candlelight Service with Shane Pruitt
6:00 pm Outdoor Festival Closes
Click here to share this free event with friends and family on Facebook.