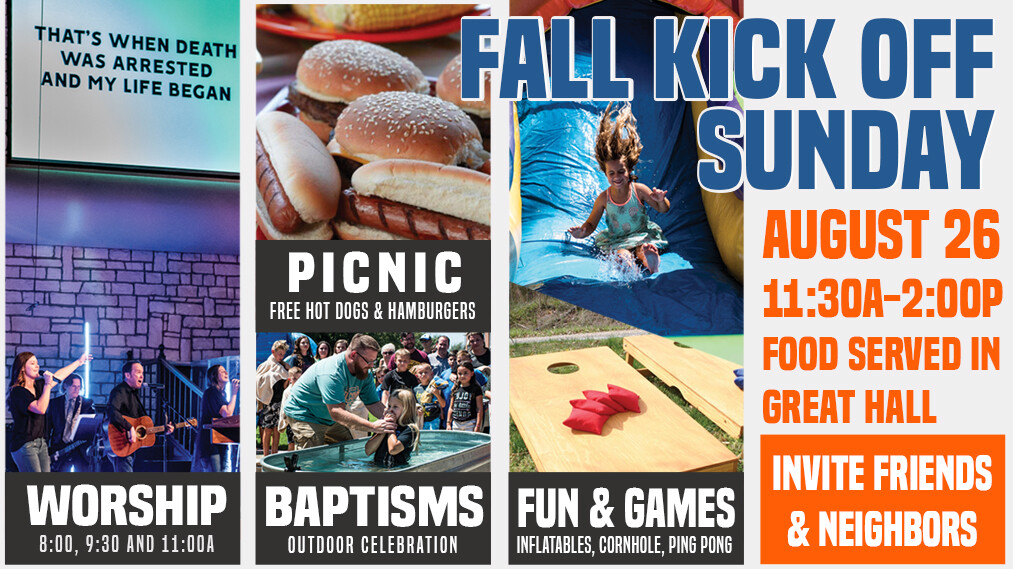 Sunday, August 26, 2018, 11:30 AM - 2:00 PM
Join us for a Fall Kick Off Sunday Celebration! Worship at 8, 9:30 or 11a. Children and students will promote to new classes; plus, it's open enrollment in all Adult Bible study so invite your friends and neighbors to visit your classes! We have new Bible study classes forming and will be announcing new ministry opportunities.
Following the last worship service, everyone is invited to a Church Wide Picnic! Enjoy a FREE hamburger or hot dog sack lunch, corn hole tournament, ping pong tournament, board games, inflatables for the kids and more! Lunch will be served in the Great Hall starting at 11:30 a.m.
Click here to register for the Cornhole and Ping Pong Tournaments
Ready to be Baptized?
If you made a decision at Student Camp or any
Children's activities, then join us on Sunday, Aug. 26 for an
outdoor Baptism Celebration! Enjoy lunch with your family
and friends, then meet in the Garage at 12:45p to change. Bring
shorts. A t-shirt will be provided. To participate, contact James Pritchard at or call the Church at 972.564.3357.