Our Story
Located in Forney, Texas, just 22 miles east of downtown Dallas, First Baptist Church Forney is a multi-generational church that offers our community worship experiences, Bible study and discipleship classes, mission opportunities, and fellowship.
---
Our History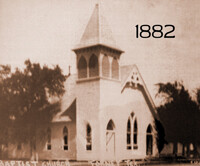 Well over a century ago, in 1868, what began with a body of believers meeting in schoolhouses and other temporary buildings near Mustang Creek became First Baptist Church Forney. In 1882 the twenty-five member congregation remodeled the existing frame building shown to the right. In 1918, the building was struck by lightning and burned to the ground.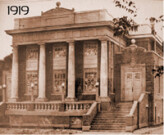 The second building shown was dedicated in 1919. This structure, coupled with additions, met the physical needs of First Baptist Church Forney for the next 50 years.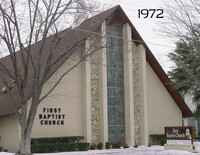 To accommodate growth, the former downtown location was built in 1972. Through the years tremendous change and growth have come to the community we serve as more and more people have moved to the Forney area.
The church voted on August 4, 1996 to relocate to a spacious 28 acre site at 1003 College Street (FM 741) where we currently reside.

With the completion of Phase 1A of our building program, on June 24, 2001 the first service was held in our new building. Both campuses (Downtown and East) were being used at the time.
In August, 2001 plans were begun for Phase 1B. Completion allowed all of our activities to be held together in one location.
The Lord has blessed First Baptist Church Forney abundantly and has given us favor. He continues to send more men, women and children to our doors than ever before and this growth is projected to continue throughout the decade. Never before in the history of our community have so many people needed to know Jesus Christ. There are unsaved multitudes at our doorstep and God is adding people day by day and week by week to our church, blessing us with well over 2,000 new converts since 1994 and over 3,850 members. Our sphere of influence and ministries are growing with our community and our growth has caused us to expand the original design.
We must prepare ourselves and our facilities to house the coming harvest. Guided by the Almighty who has brought us this far, we at First Baptist Church Forney are committed to meeting the challenge and opportunity that He has seen fit to entrust to us by providing facilities for growing ministries to serve a greater number of souls than ever imagined.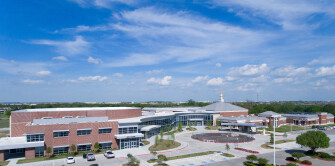 In August of 2017 we broke ground on our new multi-use Worship and Gymnasium Facility. Our building program, named Higher Ground, will continue to help us reach our ever-growing community. On April 7, 2019 we held our first full worship services in the new facility. We look back with gratitude and amazement at God's work among us. We look forward with great anticipation of an irresistible future with God's hands on First Baptist Church Forney!
On Sunday May 5, 2019, we formally dedicated the new Multi-purpose facility and celebrated 150 years of ministry at First Baptist Forney!
Year in Review
2021 was a challenging year for all, but God is good and as we lean on Him, we see his blessings at work. This video is just a quick snapshot of the year. Thank you, church family, for your support and trust. We are looking forward to 2022 with prayer and preparation!