Senior Pastor Search Team
For Your Prayerful Consideration
Nathan Lino Nominated by Your Senior Pastor Search Committee
Nathan Lino, Pastor of Northeast Houston Baptist Church, will be at First Baptist Forney on Sunday, May 1 to preach in View of a Call.
As you all know, in February 2021, we unexpectedly found ourselves without a Senior Pastor after the Lord called home our long-time beloved pastor, Brother Jim. Thus, our journey began in a way different than most other churches but God has had his hand in this process from the start. After members had the chance to provide nominations for the search committee, both the senior staff and the heads of deacons, budget, and personnel committees met separately to consider the nominations; as you may recall, both groups independently came to the same conclusion of people to serve on the committee. That unity continued throughout this entire process. Even at the first meeting we all simultaneously felt unqualified for such a momentous task but humbled and honored that the church selected us as representation. Each of us were in differing stages of grief and uncertainty as to what the Lord had in store next for First Baptist Forney. As the committee continued to meet and pray together regularly over the ensuing months, we saw God move us from a place of grief and uncertainty to a place of overwhelming gratitude for what God accomplished through Brother Jim and unbridled excitement over what God has in store next for First Baptist Forney through our new leadership.
The committee first met as a group in June of 2021, to pray and set the course for finding our next Senior Pastor. We sought counsel from FBC leadership and from leadership within the Southern Baptist Convention of Texas to guide us through the process. We spent several months praying together, growing in unity, conducting more than 50 small group focus and listening sessions, and developing church, community, and pastor profiles that could be provided to potential candidates and to ensure the committee had a common vision. Finally, by the end of October, 2021, we were ready to receive resumes. Although we received numerous extremely qualified candidates, as we worked through the process of watching sermons, reviewing resumes, and reviewing responses to committee questionnaires, one name continued to rise to the top for all committee members: Nathan Lino, Founder and Senior Pastor of Northeast Houston Baptist Church. Nathan's sermons are evangelistic, relatable, understandable, and Bible-centered. In addition, his leadership credentials and evangelical vision make Nathan the ideal candidate for our church in the accelerating growth of our community. In early February, 2022, the committee felt that God was directing us to concentrate all of our prayer and focus on pursuing only one man at a time and we informed Nathan and his wife Nicole that God was pointing us directly to Nathan. On February 9, 2022, Nathan and Nicole came to Forney to tour the town, meet the committee for the first time, and see our church facilities. We had a great dinner together and an extended conversation following dinner. We asked and answered questions with them from about 5:30 p.m. until close to 10:00 p.m. Following that meeting, Nathan and Nicole visited our church services on February 20th. In parallel, we completed interviews with Nathan's references, conducted background checks, and made plans for committee members to visit NEHBC to attend both Sunday morning and mid-week services. On February 24, 2022, Nathan came back to town and we had a formal interview, spending about two-hours with the committee. That interview was followed with another two-hour meeting between Nathan and the chairs of the deacon, budget, and personnel committees where a potential timeline for Nathan leaving NEHBC to come and be the pastor at First Baptist Forney was discussed. Through this period there was an enormous amount of prayer and fasting going on, as well as numerous conversations and video calls. On March 15, 2022, Nathan confirmed that he and Nicole felt God leading them to accept our offer and come in view of a call. That leads us to the present day and it is with great honor and excitement that we present God's man in God's timing, Nathan Lino.
Brad Davis, Senior Pastor Search Committee Chairperson
Watch First Baptist Forney's announcement from the Senior Pastor Search Committee by clicking here.
You may watch Pastor Lino's message to his congregation by clicking here.
A Word from Nathan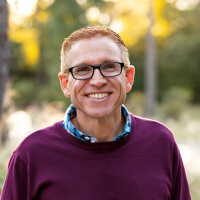 Dear First Baptist Forney Family,
I hope you are well. Nicole and I are eager to meet you next weekend. We have a strong sense of calling from the Lord to join and lead your church family for the sake of the gospel in the greater Forney region and among the nations.
This calling from the Lord was unexpected. We love our family's life in Houston and our thriving church family which we started twenty years ago. We never imagined the Lord would call us to another church family, especially in the midst of a revival that started in our church 18 months ago and still continues. However, through much prayer and fasting, the Scriptures, a long series of big unexplainable events, and your search committee, we strongly sense the Lord calling us to leave our current Kingdom assignment to come and join you. With this sense of calling has come an eagerness to meet you and a growing excitement about the Lord's plans for the First Baptist Forney family and the greater Forney region. We are looking forward to next weekend.
Nathan Lino
Bio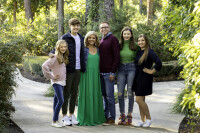 Nathan has led Northeast Houston Baptist Church since planting the church in 2002. Nathan has served as President of the Southern Baptist of Texas Convention 2015-2017, First Vice President of the Southern Baptist Convention and on the board of the International Mission Board. Nathan became a Christian while attending Pinetown Baptist Church, in Pinetown, South Africa, and was baptized and ordained at Forest Cove Baptist Church in Kingwood, TX. He graduated from Texas A&M University, and graduate school at Southeastern Baptist Theological Seminary in Wake Forest, NC (M.Div.). Nathan and Nicole have been married since 1999 and have four children.
schedule of events
Saturday, April 30: Lino Family Fellowship Reception
All members are invited to a Member Reception with the Lino family on Saturday, Apr. 30 from 6 - 8:00 p.m. in the Forum. The Linos will share a brief testimony and then fellowship with those present. Come meet and greet Nathan and Nicole!

Sunday, May 1: In View of a Call Sunday
As nominated by our Senior Pastor Search Team, Nathan Lino will preach in view of a call during both the 9:30 and 11:00 a.m. worship services this Sunday, May 1. Bible Study classes meet at 8:00, 9:30 and 11:00 a.m. Worship will also be live streamed on Facebook and at fbcforney.org. Church members will vote at the end of each service.
Voting Instructions
Only church members are allowed to vote and may pick up ballots as they enter the Worship Center on Sunday morning. You must be present at the service to vote. At the end of Pastor Lino's sermon, the Chairman of Deacons and the Chairman of the Senior Pastor Search Team will provide additional instructions.
At 12:30 p.m., in the Worship Center, the result of the ballot vote will be announced and Pastor Lino will respond. We are excited to see where God is leading First Baptist Forney. Join us as welcome God's man in God's time!
---
To make sure we reach the widest audience with information that is clear and consistent, we will provide updates via a newsletter and or video. These updates will be provided no less than once a month and more often if needed to communicate the progress of the search team.
The process of preparing the Senior Pastor Search Team to evaluate Senior Pastor candidates is a long course of action. Updates will include e a graphic showing all of the milestones and what has been accomplished, where the team is in the process, and what is ahead. Please join us in praying for the Senior Pastor Search Team as they work through each step of the process and diligently follow God's leading to the man who will be our next Senior Pastor.
January 2022 Video Update
february 2022 Video Update
march 2022 Video Update